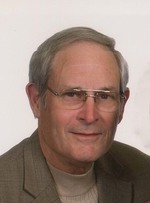 Jack Harlos Dickerson, 75, of Quitman, Texas passed away on Sunday, May 14, 2017, in Quitman, TX. He was born on Thursday, September 25, 1941, in Sulphur Springs, TX to the late Ben Dickerson and Annie Lou Dickerson. Jack attended East Texas State University in Commerce, now known as Texas A&M University in Commerce. Jack spent the first 23 years of his career as City Manager in 5 Texas cities: Daingerfield, Commerce, Henderson, Sulphur Springs, and Red Oak. His next career was spent in Quitman as the owner of the Old Settler's Inn Restaurant on S. Main for 12 years before retiring. Jack was an Eagle Scout, Lions Club member, Board Member of Mineola Country Club, and President of Wood County Hospital District from 2007-2017. He also enjoyed traveling throughout the world with his wife, friends and family.
He is preceded in death by his wife Jo Dickerson and son, Robert Dickerson.
Jack is survived by two sons, Phil Dickerson and wife Nicole of Tyler, TX, Chad Dickerson and wife Starr of Houston, TX; special daughter-in-law, Amy Dinger and husband Troy of Colmesneil, TX; brother, Ben Dickerson of Dallas, TX; four grandchildren, Brayden Dickerson and Addison Dickerson both of Tyler, Ellory Dickerson and Juniper Dickerson both of Houston; several nieces and nephews.
Visitation is scheduled from 6:30-8:00 pm on Thursday, May 18, 2017, at Beaty Funeral Home, Mineola, TX.
Graveside Celebration of Life service is scheduled for 11:00 am, Friday, May 19, 2017, at Restlawn Memorial Park, Sulphur Springs, TX.
In lieu of flowers the family kindly requests that donations be sent to the Robert D. Dickerson Memorial Scholarship in honor of Jack Dickerson. Donations can be made online at www.sfasu.edu/give, by phone at (936) 468-5406, or by mail to the SFASU Foundation, P.O. BOX 6092, Nacogdoches, Texas, 75962 (check made payable to the SFASU Foundation) , Wood County Healthcare Foundation, 117 N. Winnsboro St., Quitman, TX, 75783 or to Hospice of East Texas 4111 University Blvd, Tyler, TX 75701.