In a press release dated May 1, Guaranty Bancshares, Inc. ("Guaranty") today announced the commencement of its initial public offering of 2,000,000 shares of common stock pursuant to a registration statement on Form S-1 filed with the U.S. Securities and Exchange Commission ("SEC"). The underwriters will have a 30-day option to purchase up to an additional 300,000 shares of common stock. The initial public offering price is currently estimated to be between $26.00 and $28.00 per share. The common stock is expected to trade on the Nasdaq Global Select Market under the symbol "GNTY."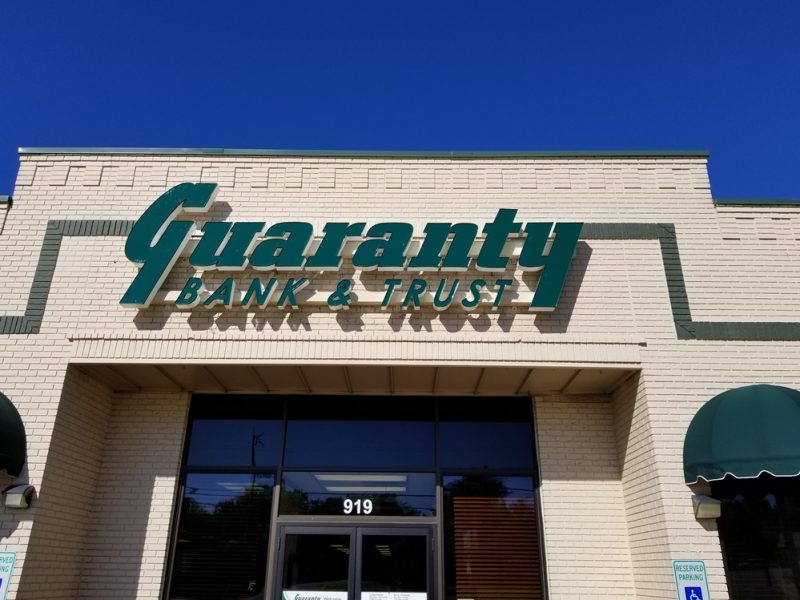 Guaranty is a bank holding company that conducts banking activities through its wholly-owned subsidiary, Guaranty Bank & Trust, N.A. As one of the oldest regional community banks in Texas, Guaranty Bank & Trust provides its customers with a full array of relationship-driven commercial and consumer banking products and services, as well as mortgage, trust, and wealth management products and services that are tailored to meet the needs of small and medium-sized businesses, professionals, and individuals. Guaranty Bank & Trust has 26 banking locations across 18 Texas communities, including Sulphur Springs, East Texas locations, the Dallas/Fort Worth metroplex and Bryan/College Station markets of Texas. As of December 31, 2016, Guaranty had total assets of $1.8 billion, total loans of $1.2 billion and total deposits of $1.6 billion.
Guaranty intends to use its net proceeds from the offering to further implement its expansion strategy and fund organic growth within its banking markets, repay corporate debt, and for general corporate purposes.
Sandler O'Neill + Partners, L.P. is acting as sole book-running manager, and Stephens Inc. is acting as co-manager.
This offering will be made only by means of a prospectus. Copies of the preliminary prospectus relating to the proposed offering may be obtained by contacting (i) Sandler O'Neill + Partners, L.P., Attention: Syndicate, 1251 Avenue of the Americas, 6th Floor, New York, New York, by phone at (866) 805-4128 or by email at [email protected]; or (ii) Stephens Inc., Attention: Prospectus, 111 Center Street, Little Rock, Arkansas 72201, by phone at (501) 377-2131 or by email at [email protected]
A registration statement relating to these securities has been filed with the SEC but has not yet become effective. These securities may not be sold nor may offers to buy be accepted prior to the time the registration statement becomes effective. This press release shall not constitute an offer to sell or the solicitation of an offer to buy, nor shall there be any sale of these securities in any state or jurisdiction in which such offer, solicitation or sale would be unlawful prior to registration or qualification under the securities laws of any such state or jurisdiction.
Cautionary Statement Regarding Forward-Looking Information
This communication contains forward-looking statements. These forward-looking statements reflect our current views with respect to, among other things, the commencement and completion of the initial public offering of our common stock. These statements are often, but not always, made through the use of words or phrases such as "may," "should," "could," "predict," "potential," "believe," "will likely result," "expect," "continue," "will," "anticipate," "seek," "estimate," "intend," "plan," "projection," "would" and "outlook," or the negative version of those words or other comparable words of a future or forward-looking nature. These forward-looking statements are not historical facts, and are based on current expectations, estimates and projections about our industry, management's beliefs and certain assumptions made by management, many of which, by their nature, are inherently uncertain and beyond our control. Accordingly, we caution you that any such forward-looking statements are not guarantees of future performance and are subject to risks, assumptions and uncertainties that are difficult to predict. Although we believe that the expectations reflected in these forward-looking statements are reasonable as of the date made, actual results may prove to be materially different from the results expressed or implied by the forward-looking statements. The foregoing factors should not be construed as exhaustive and should be read together with the other cautionary statements included in the registration statement on Form S-1, including the preliminary prospectus, we have filed with the SEC. If one or more events related to these or other risks or uncertainties materialize, or if our underlying assumptions prove to be incorrect, actual results may differ materially from what we anticipate. Accordingly, you should not place undue reliance on any such forward-looking statements. Any forward-looking statement speaks only as of the date on which it is made, and we do not undertake any obligation to publicly update or review any forward-looking statement, whether as a result of new information, future developments or otherwise. New factors emerge from time to time, and it is not possible for us to predict which will arise. In addition, we cannot assess the impact of each factor on our business or the extent to which any factor, or combination of factors, may cause actual results to differ materially from those contained in any forward-looking statements.
We have filed a registration statement on Form S-1, including a preliminary prospectus, with the SEC for the offering to which this communication relates. Before making any investment decision, investors are urged to carefully read the preliminary prospectus in that registration statement, any amendments or supplements to the preliminary prospectus, and other documents we have filed with the SEC for more complete information about us and the proposed offering. Investors may obtain the registration statement and prospectus free of charge from the SEC's website at www.sec.gov.