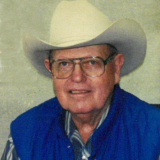 Graveside service for Gerald "Sparky" Ledbetter, age 88, of Sulphur Springs, TX will be held at 3:00 P.M. on Wednesday, May 31, 2017 at North Hopkins Cemetery.  Informal visitation will be held at the cemetery, prior to the service. Gerald passed away on Sunday, May 28, 2017 in Tyler, Texas.
Gerald "Sparky" was born on June 12, 1928 in Granite, OK, the son of Esker Washington and Roxie G (Willis) Ledbetter.  "Sparky" was a retired truck driver and Dispatcher.  He worked for Hollie Swatsell for more than 40 years, whom was also a very close friend.
He is survived by his sister, Sarah Elizabeth Williams as well as numerous nieces,  nephews and friends.
"Sparky" was preceded in death by parents; sisters Bessie Lee Winningham, Claudia Ruth Cypert, Carman "Billie" Brookey, Georgia Mae Winningham; brothers, Johnnie William Ledbetter, Hubert Ledbetter, Thomas Leo Ledbetter, Smith Willis Ledbetter.
The family requests in lieu of flowers, donations can be made to Murray-Orwosky Funeral Home, for funeral expenses.
Arrangements are under the direction of Murray-Orwosky Funeral Home.