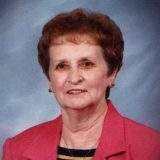 Faye Katheryn Sinclair Day, beloved wife, mother, grandmother and great-grandmother, passed away on May 14, 2017, at the age of 86, at The Village at Stonebridge in McKinney, Texas.  She was born in Bismarck, Missouri in 1930.  Faye graduated from Bismarck High School.  She attended Flat River Junior College in Missouri; she later finished her studies at Texas Wesleyan University in Fort Worth, Texas, where she earned a Bachelor's Degree in Education.  Faye completed her graduate studies at Texas A&M Commerce. 
Her career started as a phone operator for SWBC, in Weatherford, Texas.  Faye later became a Homebound Teacher working for three counties.  She was a blessing to many in the churches where her husband served by singing in the choir and participating in the UMW.  Faye developed many close friends in the Methodist Church.  She will be greatly missed by family and friends.
Faye is survived by her husband, Rev. Gaither L. Day; sons, Benjamin L. Day and wife Sonia, Jon J. Day; grandchildren, Paul Day, Hillary Sartin and Jordan Day; great-grandchildren, Connor and Jocelyn Day; brothers, Nelson and Lonny Sinclair; numerous nieces and nephews.
She was preceded in death by her parents, Alene and Walter Sinclair and sister, Virginia Freer.
A memorial service will be held at 11:00 a.m., Saturday, May 20, 2017, at First United Methodist Church, 315 N. Church Street, McKinney, Texas.  A reception will be held after the service in the Fellowship Hall.  A private burial will follow.  The family will receive friends for a visitation, one hour prior to the service at the church.
In lieu of flowers, donations may be made to:  First United Methodist Church, Youth Ministry, 315 N. Church Street, McKinney, Texas 75069.