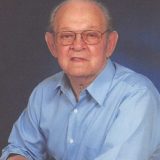 Donald Lee Holt, age 80, passed away May 3, 2017, at his home in Emory, Texas, from a long-term illness.  Don was born on February 17, 1937, in Flora, Texas, the son of Odie lee Holt and Julia Ann Tubb Holt.  He could accomplish anything he set his mind to do.
At an early age, he loved to hunt and enjoy his favorite dog Bulger.  After meeting Gloria Don Mobley, he knew she was the one by the way she held his hand just right, so he married her on June 3, 1956, in Dike, Texas.  After 30 years employed at International Harvester, Don retired in 1987.  He was a member of Lake Fork Baptist Church.  His hobbies included fishing and woodworking.
Don is survived by his wife of 60 years, Gloria Holt of Emory, Texas; son, Richard Holt and wife Pamela of Henderson, Texas; son, Bryan Holt of Dike, Texas; granddaughter, Miranda Holt and Robert Carter of Elkton, Maryland; granddaughter, Brittny Lennon and husband Adam of Italy, Texas; grandson, Cory Holt of Keller, Texas; granddaughter, Kristen Terry and husband Cory of Keller, Texas; step-grandchildren, Steven, Kelsie, and Jordan Schulte of Athens, Texas; great-grandsons, Garrett, Lucas, Kall Lennon; great-grandsons, Braydon and Rylan Holt; and step-great grandchildren, Cheyenne and Michael Carter.
Don was preceded in death by his parents; his brother, Edward Glyn Holt, and grandson, Justin Lee Holt.
Funeral services will be held at 11:00 a.m., Friday, May 5, 2017 at West Oaks Funeral Home Chapel with Bro. Arlis Banks and Bro. Danny Meeks officiating.  Interment will follow at Connor Cemetery with Chris Holt, Scott Lancaster, Danny Bolin, Billy Wayne Mobley, Adam Lennon, and Dean Mobley serving as pallbearers.  Visitation will be from 6:00 to 8:00 p.m., Thursday, May 4, 2017 at West Oaks Funeral Home.
Arrangements are under the director of West Oaks Funeral Home.