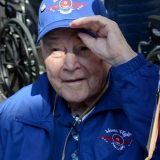 Funeral services for Charles R. Sewell, age 90, of Sulphur Springs will be conducted at 3:00 p.m. Monday, May 15, 2017 at the West Oaks Funeral Home Chapel.  Rev. Moore of First Presbyterian Church will officiate and there will be no formal visitation.  Arrangements are under the direction of West Oaks Funeral Home
Charles was born on February 7, 1927 in Malvern, AR to Charles L. Sewell and Elizabeth Robertson Sewell.  As a man of deep faith, God brought him home on Saturday, May 13, 2017.  Charles is survived by his wife of 31 years, Louise Thornton Sewell.  Additionally, he is survived by his son Michael Sewell and wife Leticia; his daughters Beth Sewell Goad and Ginger Worthington; his grandchildren Charlie and wife Tiffany, Jeremy, Maggie, Chase, Beccah, Sedona, Paige and Lety; his great-grandchildren Alyssa, Brianna, and Chloe; his nephew Jennings; his special caregiver Margaret Harris; and his precious pup Sam.  Charles was preceded in death by his first wife of 32 years; Margaret (Maggie) Wilson Sewell; his son Charles W. Sewell (Scudder); and his brother William Sewell.
Charles gave his heart to God, family and country. His greatest joy came from telling stories to his grandchildren, taking pictures of family, flowers, & sunsets, and sharing his love of geology.  He owned and operated Sewell Mineral Exploration and traveled the world on what he described as 'adventures'.  He was a founding member of the Mining Club of the Southwest, an Elder in the Presbyterian church, a member of the A.I.M.E. (American Institute of Mining Engineers), founder of the 'Hooters Geological Club' in Tucson, AZ and a Mason with the Rockport Lodge #58 in Arkansas.