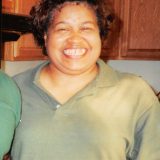 Funeral service for Bobbie Jewel Needum, 66, of Sulphur Springs, formerly of Dallas, will be held at 2:00 p.m., Wednesday, May 24, 2017 at West Oaks Funeral Home Chapel with Donald Moore officiating. Interment will follow at Mel Haven Cemetery with Bobby Needum, Nathaniel Needum, Joe Needum, Samuel Needum, Bernard Franklin, and Bobby Taylor. Honorary pallbearers will be Jacob Iroh, Ivory Needum, Jarrel Needum, and Brayson Needum. There will be no formal visitation.
Bobbie passed away on Thursday, May 18, 2017 at her residence. She was born on April 10, 1951 in Hemphill, TX, to the late Miccie Latham and Birdie Mae Williams. She accepted Jesus Christ as her Lord and savior at an early age. She moved to Dallas and was employed by Texas Instruments for over 20 years, until she retired. She enjoyed fishing, cooking, and outdoor activities. She was a very happy person and her smile would light up a room or any place she was present. She was a joy and had a contagious laugh.
She leaves to cherish her memories, her husband of 28 years, Robert Needum, daughters, Cynthia Canady and husband Ferman, Brigette Bryant, sister, Dorothy McCoy, grandson, Jacob Iroh, granddaughters, DeAundrea McDonald, Aliah Dixon, and a host of family and friends.
Arrangements are under the direction of West Oaks Funeral Home.