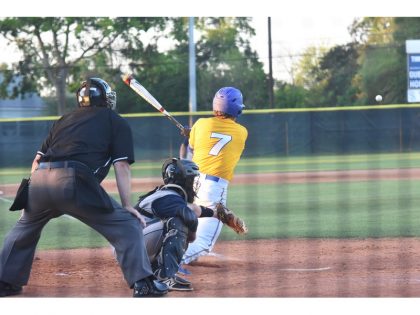 According to one high school baseball poll, the Wildcats are ranked #13 in the state in Class 5A. After a 5-4 win over Pine Tree last Friday night, the Wildcats are 7-0 in district play and 13-5-1 for the season. Two of the Wildcats losses came to Forney, #5 in the poll, and to Waxahachie, #16 in the poll.
Hallsville, who the Wildcats beat in district play, are ranked #15. Wildcats Baseball Coach Jerrod Hammack talked about the Pine Tree win on KSST Radio and Channel 18's Saturday Morning Coaches Show. He was a little concerned with his team's demeanor during the game. Instead of the usual free and easy approach with smiles on their faces, Coach Hammack said the team seemed to have a monkey on their backs, perhaps realizing that they were unbeaten in district play. He said it was Pine Tree that came in relaxed and playing free and easy. They came in after a big win at Texas High feeling they were in position to challenge for a playoff spot. Still the Wildcats figured out a way to win. They came back from 1-0 and 4-2 deficits. The Wildcats won in walk-off fashion with a run in the bottom of the seventh.
Coach Hammack said the Wildcats have shown this year that they feel they are never out of a game. They came back against Sanger in a tournament. Three of the Wildcats' wins have been by a single run. This week is a big one for the Wildcats, one game up on second place Hallsville in the district race. The Wildcats play at Marshall Tuesday night. The Mavericks were picked to finish second in the district and they are currently in third place at 4-3. Then Texas High comes to Eagle Stadium Thursday night. Texas High is in fourth place with a 3-4 record.