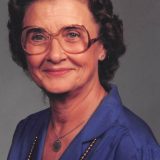 Funeral service for Wanda Jean Morgan Adair, age 90, of Sulphur Springs will be held at 2:00 p.m., Tuesday, April 18, 2017 at West Oaks Funeral Home Chapel with Bro. Fred Lewis officiating. Interment will follow at Restlawn Memorial Park with Preston Adair, Brad Adair, Chris Davis, Clint Sanderson, Kevin Adair, and Kiffer Davis. Honorary pallbearers will be Larry Vititow, Loyd McCord, Del Ray Jenkins, Larry Looney, and Amos Walker. Visitation will be held from 6:00 to 8:00 p.m., Monday, April 17, 2017 at West Oaks Funeral Home.
Wanda passed away peacefully surrounded by her loving and devoted family on Thursday, April 13, 2017 at Carriage House Manor. Wanda was born on October 18, 1926 to Wiley and Sallie Craig Morgan at their farm home in the Star Ridge Community with Dr. W.S. Southerland and ladies of the community attending.
Wanda attended Star Ridge grade school and then commuted by bus to Sulphur Springs High School where she graduated in 1943. Wanda joined Star Ridge Baptist Church in 1941, where she and nine others were Baptized in the pond on her fathers' farm. Wanda continued her walk with Christ through her membership at First Baptist Church, Sulphur Springs.
Wanda was a sales clerk for Duke & Ayers 5&10, Davenports 5&10, and worked in bookkeeping at Pratts Federated Department Store where she met the love of her life George Adair and they were married one year later, on March 18, 1946 in the First Baptist parsonage by the Rev. C. Wade Freeman. Wanda and George were married fifty-nine years at his death in January 27, 2005. During this time, she kept books for George Adair Trucking, Adair Truck and Trailer Sales, and Owners of Sulphur Springs City Taxi which they ran for fifteen years. However, Wanda's greatest accomplishment was playing an integral part in the lives of her daughter, grandchildren, great-grandchildren, and great-great-grandson.
Wanda is survived by a loved daughter Brenda Ann Babb and husband Ronnie of Sulphur Springs, TX, granddaughters, Sherrie Ann McCoy and husband Tony of Whitehouse, TX, Shelia Kay Sims of Sulphur Springs, one grandson Brian Wayne Sims and wife Stephanie of LaRue, TX, great-grandchildren, Wendie Ann Turner and husband Daniel of Whitehouse, TX, Morgan Andie McCoy of Whitehouse, TX, great-great-grandson, Cade Turner of Whitehouse, TX, sister, Patsy Ruth Gibson of Sulphur Springs, TX, brother, Wiley Avon Morgan and wife Sandi of Fargo, ND, nieces, nephews, and special friends Pam Black and Jajan Davis.
She was preceded in death by her husband and her parents. Arrangements are under the direction of West Oaks Funeral Home.