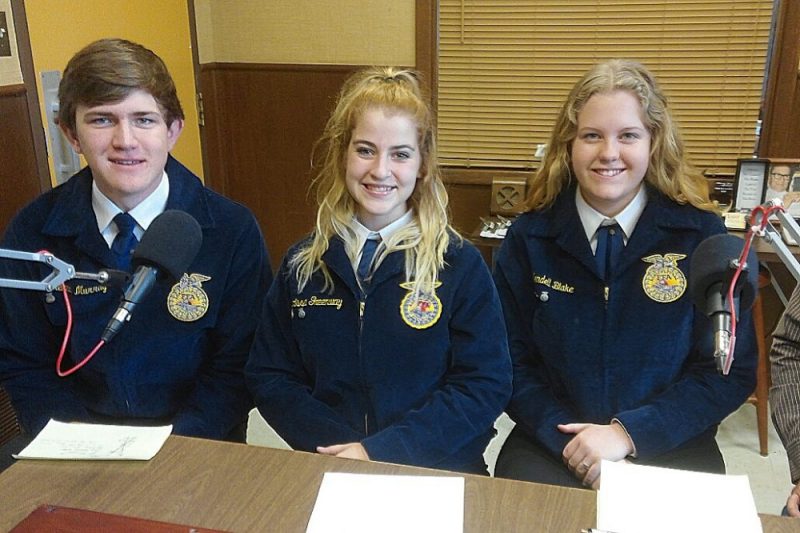 Three Sulphur Springs FFA students and their Chapter Advisor  John Holland shared details about their upcoming fundraiser Show and Sale with KSST listeners and Channel 18 viewers during the Morning Show on Thursday. Sophomore Brennan Murray raises beef cattle and creates ag mechanic items. Junior Marissa Greenway will show shopmade projects and Junior Kendall Blake will bring one of her horses to show.  The entire class is entering at least one project and some will enter several, from livestock to horticulture to ag mechanics. The public is encouraged to come out and view the projects, meet the FFA students, sit down to an Ice Cream Supper and bid on  handmade, homegrown and and shopmade items which will include decorative gates, BBQ/Grill, plant stands, hog traps, rabbits, plants and much more. Funds raised during the April 29th event will be used for Chapter needs, including travel expenses to competitions around the state. Please attend! Find details and schedule below, and more about the students.
SSHS FFA Show and Sale Saturday April 29, 2017 in the Hopkins County Civic Center arena. View the Project Show from 9am til 3pm, enjoy the Ice Cream Supper at 3pm and stay for the Auction at 4pm.
Sophomore Brennan Murray raises beef cattle and heifers. Along with team members, he earned scholarships by catching calves at both Houston and Ft Worth shows earlier this year. He serves as Chapter Historian.
Junior Marissa Greenway is a third-generation SSHS FFA student. After high school, she plans to join the Air Force.She serves as 2016/2017 Chapter Student Advisor.
FFA Officer Kendall Blake is a Junior at SSHS, and plans to continue her education in Animal Science, studying to become a Veterinarian. She currently serves as Franklin County Rodeo Queen.