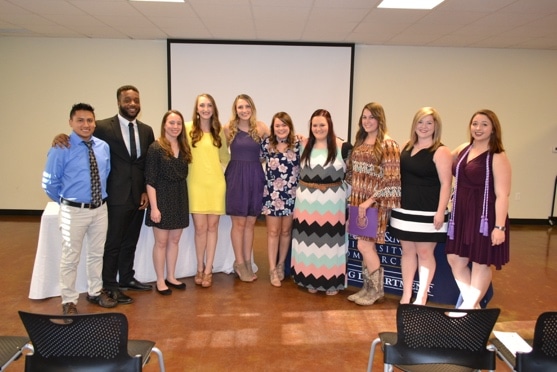 By Liliana Vasquez
 COMMERCE, TX— Ten students from the Bachelor of Science in Nursing program at Texas A&M University-Commerce were inducted into the Iota Nu Chapter at Large of Sigma Theta Tau International Honor Society of Nursing.
STTI membership is by invitation to baccalaureate and graduate nursing students who demonstrate excellence in scholarship and to nurse leaders exhibiting exceptional achievements in nursing.
Baccalaureate students must have completed at least 50 percent of their nursing program with a B average to be considered, with only the top 30 percent of those students receiving invitations.
Students pictured are Jose Daniel Colin, Monterrio Jones Jr., Brittany Perryman, Tiffney Darrow, Courtney Goldsmith, McKenna Sims, Cheyenne Bryant, Katelyn Sims, Sara Christopher, and Shanna Spurr.
Sigma Theta Tau International has over 135,000 active members from more than 90 countries worldwide whose mission is advancing world health and celebrating nursing excellence in scholarship, leadership and service.
The faculty of the A&M-Commerce Nursing Department are all active members with several holding leadership positions on the Iota Nu Board of Directors.
About Texas A&M University-Commerce: Founded in 1889, Texas A&M University-Commerce is a member of The Texas A&M University System.  Located in Northeast Texas, A&M-Commerce is home to more than 12,000 students, four academic colleges, a thriving graduate school, and more than 140 degree programs.  As the region's focal point of higher education, A&M-Commerce offers students facilities ranging from the world-class Keith D. McFarland Science Building and University Planetarium to the Sam Rayburn Student Center, to a fully equipped recreational facility and music hall.  The university also has convenient locations in Corsicana, downtown Dallas, Midlothian, McKinney, Mesquite and Rockwall.
About the A&M System: The Texas A&M University System is one of the largest systems of higher education in the nation, with a budget of $4.2 billion. Through a statewide network of 11 universities and seven state agencies, the Texas A&M System educates more than 150,000 students and makes more than 22 million additional educational contacts through service and outreach programs each year. System-wide, research and development expenditures exceeded $946 million in FY 2015 and helped drive the state's economy.