FOUNDER SUSAN SMITH AND DIRECTOR TAMMY REARDON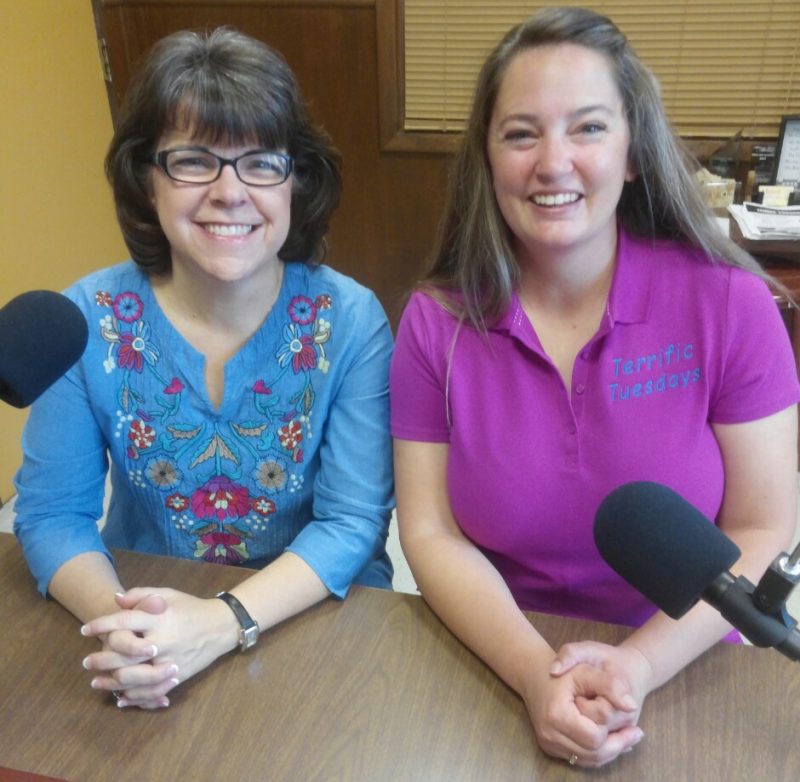 The popular day respite program Terrific Tuesdays announces their new director. Tammy Reardon, new to Sulphur Springs, answered a job listing, provided her resume and was soon hired. Coming to Texas from California, Tammy's background is in education, primarily  with Special Education students. She is also home-school educator. She has been on the job for three weeks and is very excited about the opportunity to build the program which is hosted weekly at First United Methodist Church.
Terrific Tuesdays was created in Sulphur Springs  in 2004 for the benefit of persons with Alzheimers and dementia, as well as their caregivers. Susan Smith was one of the founding members whose interest came through her daily responsibilities for her father. After researching and visiting Tyler's "Wonderful Wednesdays" program, Susan and other board members decided they could model a similar respite plan in Hopkins County. A grant was applied for and received, and Susan's father was the first to sign up for the new program, designed for up to 15 participants. Thirteen years ago, the first director was Chris Beach, and in later years, Joyce McDonald served as director. Along the way, an annual event "A Walk To Remember" was designed as a fundraiser. It continues to be held each October.  Donations from individuals, businesses and organizations through the year also help with ongoing expenses.  Caregiver support is offered through a free Alzheimer's Support Group, meeting monthly on the fourth Tuesday at 7pm at First United Methodist Church.
Terrific Tuesdays is held each Tuesday from 9am til 2pm at First United Methodist Church Family Life Center. It is a day respite program for persons who suffer from Alzheimers, memory loss and other dementia AND for their caregivers. During the program, the caregiver can stay or they can treat themselves to a few hours on their own while their loved one is cared for. Terrific Tuesdays is a one-on-one program, with a volunteer "buddy" assigned to each participant. Attendance is on a donation basis. Suggested cost is $20 per week, but no one is turned away due to inability to pay. Currently there are about a dozen participants taking part on Tuesdays for games, music, fellowship, lunch, field trips, laughter and friendship. If you have questions about Terrific Tuesdays, contact Tammy Reardon at 903-243-5620.