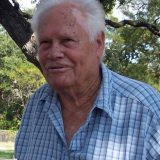 Funeral services for Marvin Ray "Doc" Reed, age 101, of Sulphur Springs, will be held at 10:00 a.m., Wednesday, April 26, 2017 at West Oaks Funeral Home Chapel with Bro. Bradley Edge officiating and Bro. Cleave Stafford assisting. Interment will follow at Ridgeway Cemetery with Brian Reed, Howard Wolfe, Randell Reed, Rusty Reed, Chance Reed, Roger Joseph Ray Reed, Keith Duncan, Charlie Crews, and Jackie Ray Reed. Honorary pallbearers will be Rickey Reed, Jr., William Bubbu Reed, Bill Reed, Michael Reed, Brandon Edge, Johnnie Reed, Donald Lisk, Kenny Baskin, and Brandon Reed. Visitation will be held from 6:00 to 8:00 p.m., Tuesday, April 25, 2017 at West Oaks Funeral Home. Marvin passed away Saturday, April 22, 2017 at Rock Creek Health and Rehab in Sulphur Springs.
He was born on April 7, 1916 in Valiant, OK, the son of William Jefferson and Julia Gertrude Ewton Reed. He married Mary Leona Keller on February 18, 1938 in Hopkins County. She preceded him in death. He was a member of the League Street Church of Christ. He worked as an automobile mechanic for many years.
He is survived by sons, Steve Reed and wife Wanda of Sulphur Springs, Ricky Reed of Sulphur Springs, Paul Reed and wife Sharon of Waco, Roger Reed and wife Josephine of Sulphur Springs, Richard Reed and wife Rebecca of Sulphur Springs, Mark Reed and wife Brenda of Sulphur Springs, Bobby Keller and wife Janet of Sulphur Springs, daughters, Peggy Brzeski of Sulphur Springs, Ronda Falls and husband Todd of Dike, and Helen Baskin and husband Charlie of Sulphur Springs, sister, Lillie Ross, thirty nine grandchildren and numerous great-grandchildren.
In addition to his wife, he is preceded in death by daughters, Mary Jane Medina and Betty Ann Long, sons, Lloyd Ray Reed and William Junior Reed, grandsons, Pat and Andy Reed, great-grandsons, Kyle Lisk and Micah Reed.
Arrangements are under the direction of West Oaks Funeral Home.