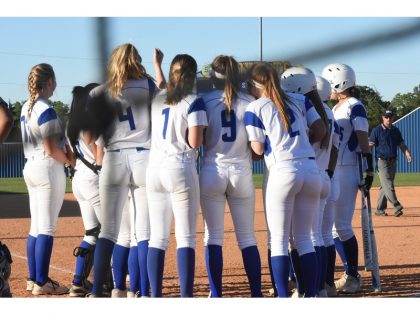 The Lady Cats' softball team recorded their 20th win of the season last Friday as they defeated Pine Tree, 7-1 at Lady Cat Park. The Lady Cats improved to 7-2 in district play and they are 20-6 for the season.
Lady Cats Softball Coach David Carrillo said 20 wins is still a landmark. He said it means things are going well. Coach Carrillo added the win over Pine Tree was a big one. The Lady Pirates are one of the top teams in the district and at one time were tied with the Lady Cats for second place. The Lady Pirates also defeated the Lady Cats at home, 5-3 during the first half of district play. Coach Carrillo is still hoping for a district championship.
Texas High has a two game lead so the Lady Cats will need help from someone. Coach Carrillo said his team does control their destiny for the second seed in the district. He said Bailey Haggerty pitched a good game for the Lady Cats against Pine Tree. She allowed only 1 run by scattering 8 hits and she walked only 1 batter. The Lady Cats made some solid defensive plays behind Haggerty. Catcher Macee Hollins threw out a Lady Pirate trying to steal in the first inning. Second baseman Hannah Crowson started a double play by tagging out a base runner before throwing to first. Center fielder Alyssa Abron ran down a ball in the gap and made the catch. Shortstop Kelsey Wallace fielded a ball in shallow left field and threw out a runner trying to go from second to third. Brinklee Driver and Sadie Stroud provided big home runs. Stroud hit a 2-run homer to give the Lady Cats a 4-1 lead. Driver's three run shot made the score 7-1.
The Lady Cats play at Marshall Tuesday night. Then they have their showdown with Texas High at Lady Cat Park Thursday evening. That's senior night and the Lady Cats will honor Kristen Allen, Jaye Doughtie and Hannah Crowson.