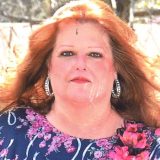 Kathie Lee Hornbuckle, age 61 of Winnsboro, passed away on Tuesday, April 11th, 2017 in Tyler. She was born on October 31st, 1955 in Overton, Texas, to the late Hershel Tate and Elizabeth Tate. She was a longtime florist with flowerland and was a member of Rock Hill Baptist Church. She was preceded in death by her parents and by one sister, Becki Tate.
She is survived by her husband Grant Hornbuckle of Winnsboro; son Cody Lee Gibsonand his wife Tiffany of Quitman; daughter Melissa Ann Harris and her husband Steve of Winnsboro and five grandchildren, Colby Harris, Levi Harris, Cannon Harris, Beckham Gibson and Emersyn Gibson.
Visitation will be held on Friday, April 14th, 2017 from 6:00 pm to 8:00 pm at Beaty Funeral Home-Winnsboro 816 W. Broadway Winnsboro, TX 75494. Funeral Services will be held on Saturday, April 15th, 2017 at Beaty Funeral Home at 2:00 pm, Rev. Ken Goodson conducting, Interment will follow at Lee Cemetery in Winnsboro, with Dusty Allen, James Sisk, David Kull, Danny Rowell, David Rowell, Gregg Hornbuckle serving as pallbearers.
In lieu of flowers donations may be made to the Rock Hill Baptist Church Building Fund.