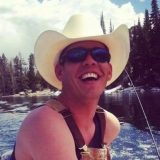 Visitation for Justin Monroe Andrus, age 30, of Sulphur Springs, will be held at Murray-Orwosky Funeral Chapel from 6:00 to 8:00 P.M. on Tuesday, April 25, 2017.
Justin passed away on Saturday, April 22, 2017 at his residence in Sulphur Springs. He was born on February 9, 1987, the son of Duane Andrus and Michelle (Smith) Myers in Sulphur Springs, TX. He was a traffic controller for AWP.
He is survived by his parents, Duane and Dene Andrus, and Michelle and Loren Myers; daughter, Averie Nichole Andrus; son, Rylan James Andrus; sisters Shona Deanne Lee, Jamie Diane Bockemehl, Samantha and husband Garnett Stevens, Shayna Smith; brothers, Shawn Duane Andrus, Christopher David Bockemehl, Austin Myers; grandmothers, Mary McKinney Gurten, Delores Cain and great grandmother Arline Flora.
Justin was preceded in death by both grandfathers.
Arrangements are under the direction of Murray-Orwosky Funeral Home.