Funeral services for the Reverend Harold Bernard Montgomery, Jr., Pastor of the Fellowship Missionary Baptist Church of Fort Worth and former Pastor of Morning Chapel Missionary Baptist Church of Sulphur Springs, will be held Friday, April 28, 2017 at noon at Fellowship Missionary Baptist Church, Fort Worth. Reverend Montgomery departed this life April 20, 2017.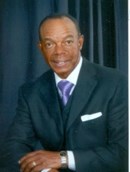 Harold B. Montgomery Jr., a gospel teacher, preacher and pastor of Fellowship Baptist Church, heard the Master's voice say "Well Done" on Thursday, April 20, 2017, in the comfort of his residence with his loving family at his side. Life Celebration: Noon, Friday, April 28, at Fellowship Baptist Church, 956 East Jefferson Ave., the Rev. Derrick T. Williams, eulogist, and Rev. Roy Elton Brackins officiating. Interment: Pastor Montgomery will be laid to rest in the El Jardin Estate in Laurel Land Memorial Gardens. Visitation: Pastor H.B. Montgomery Jr. will lie in sweet peace from 10 a.m. to 8 p.m. Thursday in the Pauline Minor Chapel of Gregory Spencer Funeral Directors and at the church where he pastored Friday from 9 a.m. until the beginning of the celebration.
Pastor Montgomery, a faithful servant of the Most High God, believed in spreading the Gospel Message to all. He was true to his calling to be instant in season and out of season and led many souls to Christ through his dynamic preaching and teaching. Rev. Montgomery served as pastor at Evergreen Baptist Church, Nash, Texas, Greater Pleasant Hill Baptist Church, Arkadelphia, Ark., and Morning Chapel Baptist Church, Sulphur Springs, Texas. "When I've gone the last mile of the way, I will rest at the close of the day and I know there are joys that awaits me, when I've gone the last mile of the way."–Johnson Oatman Jr.
Survivors: Left to cherish fond and pleasant memories of Pastor H. B. Montgomery Jr., his loving and devoted wife, Clara Montgomery; his children, Andrew Hruska, Leslie Montgomery, Lance Larry and Tiffani Berry; brother, Rev. J.D. Montgomery (Lynn); sister, Gail Smallwood; aunt, Mary Neal; five grandchildren; in-laws, Tully Farris (Jacque ), Nellie Shavers (Joe), Flora Spivey; Fellowship Baptist Church family; other loved ones; and friends.