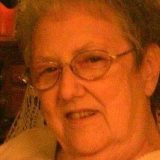 Graveside Services for Geraldine Burleson, age 88, of Dike, will be held at 2:00 P.M. on Monday, May 1, 2017 at Conner Cemetery in Dike with Shane Carrington officiating.  Interment will follow at Conner Cemetery Allen Nelson, Jeremy Burleson, Casey Phillips, Justin Showers, Jared Burleson and Jeffery Burleson serving as pallbearers. Visitation will be held on Sunday, April 30th, from 5 to 7 P.M. at Murray-Orowsky Funeral Home.
Geraldine passed away on Thursday, April 27, 2017 at her residence in Dike.
She was born February 24, 1929 in Sherman, Texas to Jose and Edna Twyford Crutchfield. She married Theo Burleson in Dallas, TX on May 13, 1950.  Geraldine was a retired bookkeeper for J.C. Penneys and member of Southside Church of Christ.
Surviving are son, Mitchell Craig Burleson, of Sulphur Springs; daughters, Sandra K. Burleson Collins of Dike, and Carol Annette Nelson and husband Allen of Dike; eight grandchildren and five great grandchildren.
Preceding her in death was her husband, Theo Burleson; son, Randall Burleson; and grandson, Randall Lance Davis.
Memorials can be made to Legacy Hospice, 1901 Rickety Lane, Ste 103, Tyler, Texas, 75703.
Arrangements are under the direction of Murray-Orwosky Funeral Home.