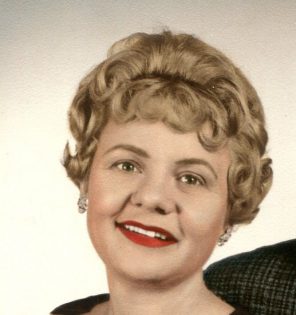 Genevieve Elledge was carried from this earth on the wings of angels to her heavenly Father on March 30, 2017. She was born Genevieve Adele Fulton on October 6, 1924 in Kansas City, Missouri. Her father, William Christopher Fulton, was a WWI veteran who married Henrietta Gabrielle Branche, a French citizen. They were married in France and came to America in l919. Genevieve was raised on a farm and was the the middle child of five children. As a child her family moved several times, but Texas was her home and she graduated from Tomas Edison High School in San Antonio, Texas in 1943. She loved all things Texas , especially country music. She knew Bob Wills and the Texas Playboys and never missed a chance to dance with Bob and enjoy his music when she lived in the Hill Country.
On June 1, l949 she married G. L. Elledge, the only son of George W. Elledge and Evie L Pierce Elledge of Winnsboro. G.L. was a WWII veteran and studied to become an electrician. Genevieve was and always wanted to be a homemaker. Together they had two daughters, Annette Cecile and Denise Michelle. After her husband retired, they moved to Winnsboro, Texas where they enjoyed the peace and rewards of a country life. They were blessed with 56 years of marriage.
Genevieve loved her home and family. She loved sewing and cooking. She was a member of Winnsboro's Rip and Tuck quilting club for many years along with her mother- in-law Evie Elledge and relative Opal Elledge Futrall. She loved to pick fresh black eyed peas and can tomatoes. We will always remember her crispy golden cornbread, perfect fried chicken, the Christmas fruitcake, the hand sewn quilts and the crocheted afghans. Over the years she served as home room mother and Girl Scout leader; she taught Sunday school, served on the church altar guild, sewed choir robes, and baked for many fund raisers. She was a member of the Angleton, Texas chapter Order of the Eastern Star for 50 years and worked on many charity projects.
She was preceded in death by her husband, G.L. on July 3, 2007. She was the remaining sibling of 5 children, her oldest sister Billie Fulton Zimmer, brother George Fulton, younger sister Helene Fulton Soules, and youngest sister Jacqueline Yvonne Fulton.
She leaves behind her daughter Annette and son-in-law Hank Scharpenberg, who reside in Stafford, VA. , Denise and son-in-law John Ferguson, two granddaughters Katherine Genevieve and Kimberly Ann Ferguson all of Indianapolis, IN.
Services for Genevieve will be on Saturday April 15 at 11 a.m. through Beaty Funeral Home in Winnsboro . She will be laid to rest next to her beloved husband , G.L. Elledge, at Good Hope Cemetery.