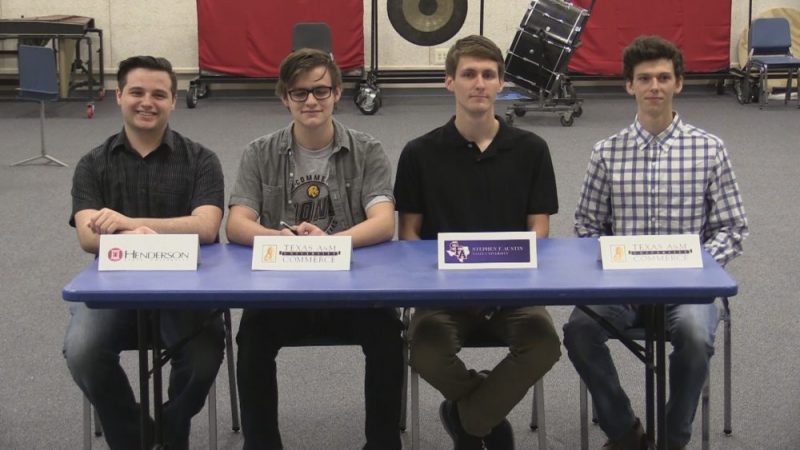 Four members of the Wildcats' band signed letters of intent Wednesday morning to continue music study in college. Sam Robinson, a percussionist, is going to Henderson State in Arkansas. Christian Diaz DeLeon, a trombone player, has picked Texas A&M-Commerce. Andrew Moore, in percussion, decided on Stephen F. Austin in Nacogdoches. Seth Womack, a saxophone player, is headed to Texas A&M-Commerce.
Robinson said Band Director Charles McCauley went to Henderson State and loved it and has talked fondly about their music program. Robinson said others also said good things about the university. He said he visited and liked the campus, its' teachers and its' band. Robinson would like to become a band director, just like Mr. McCauley.
DeLeon said his father Jesus DeLeon went to Texas A&M-Commerce. Christian's instructor, who gives him private lessons, works there as a band director and DeLeon said he is an awesome guy. He likes the band and he said he knows it's the right place for him. Deleon said he would like to be a music arranger for marching bands and perhaps even return to SSHS to write music for the Wildcats' band.
Moore said he visited SFA's Nacogdoches campus and said it was beautiful. He added it had nice professors, an excellent music program and a good band and drum line. Moore said he would like to work in a recording studio working with bands helping them with their music.
Womack was attracted to A&M-Commerce because it is a local school close to home. He liked the people there and their band. Womack said he wanted to continue making music in ensembles. He is unsure what his major may be.
McCauley called Wednesday an exciting day for the young people, their families and for the Sulphur Springs band program. He said it is always great to see students continue education after high school and he added it is even more exciting to see that they are going to continue in music while they are in college. Signing Day drew parents and media members.