The City of Sulphur Springs will begin planning the use of a 4,900 acre gift and public input will be invited. Luminant will give the coal mine located southeast of the city to become city property. The idea for the gift was birthed when the late Roy Pelton wanted to a championship dog trials event held locally but there was not enough land area available. Pelton and the city contacted Troy Sellers with Luminant but he stated the trials could not use the property because the mining operation did not allow firearms on their property. That's when the request was made to give the land to the city when the mine closed.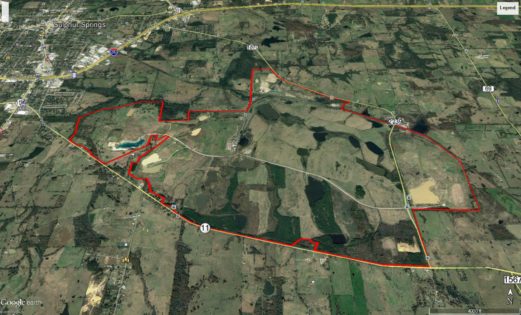 According to Marc Maxwell, City Manager, an email from Luminant about three months ago questioned if the city remained interested in the property. A conversation by city council last week in a special meeting confirmed the cities interest. Maxwell stated that there remains only a small area of the land that is yet to be reclaimed by the mine. He stated that the mountain would remain with some terracing and other work performed. He said the city would be involved in the reclamation work that will conclude the required process.
Maxwell said the city will use much of the land for various events. Maxwell pointed out that there are a number of questions yet to be answered regarding the use of the land. About 300 acres are suitable for structures. A railroad spur into the property can also be an asset to industrial development. Several roadways run through the property as well. Maxwell said those roads are in decent condition and will be a part of the planning for utilization of the acreage. The overpass on FM 1870 will remain giving worry free access to property on both sides of the Farm to Market road. There are also 19-20 lakes on the property. Among the events, he noted that mud runs are popular and are often two-day or more events. Dog field trials could also be a part of the event plan.
Maxwell expects public input into the usage of the property. With the new comprehensive planning set to begin in May of this year, he said that property will also be in the discussion for the city's future.
With the gift, 4,900 acres will be removed from the tax revenue for the county and school district. Maxwell pointed out the land was already being place into the agricultural use category. That would generate only a small amount of tax revenue. Instead, with improvements to be made on the property and other opportunities offered by the property there would be a great revenue generated for those entities.