Thank you to everyone who supported and played in the 28th Annual Chamber of Commerce Golf Tournament!  We had a wonderful day with beautiful weather and happy golfers! Thank you to the Sulphur Springs Country Club for hosting our event and making the day run smoothly.  An extra special thank you to our Hole-In-One sponsors Jay Hodge Chevrolet, Farm Country, Interstate Body Shop, and Robinson Bennett Construction.  Our Hole-In-One opportunities sure made for an exciting day!  In addition, thank you to our Gold Sponsors, Goody Bag Sponsors, and Raffle Prize sponsors.  Because of you we had a wonderful day!
History by the Foot Tour on April 22nd has a few openings remaining
Time has arrived for the next History by Foot (13th Semi-Annual), sponsored by Downtown Business Alliance.  There will be one walk at 9:30 a.m. on April 22nd starting at Center of Celebration Plaza. The tour will start by going to the south side of the square to explore Oak Avenue, cross back to Gilmer, then come back to the square.  They will be spending time detailing an early residential and commercial area off the square followed by a surprise visit to a newly renovated building.  The group will be limited to 30.   Cost is $10.00 per person. You can pay at CNB or just bring your money on the day of the walk.
It's Time for the Hopkins County Rodeo on Friday, April 21st and Saturday, April 22nd
The Hopkins County Rodeo Committee is presenting their UPRA Membership Rodeo on April 21st and 22nd at the Hopkins County Indoor Civic Center Arena. Tickets are available at Circle E Western Store and are $10 for pre-sale tickets.  Tickets are also available at the door.  Children's admission is $8, Friday night tickets are $10, Saturday night tickets are $12 and include admission to the dance featuring Monty Tipps.  Make sure you put this one on your calendar.  It is a wonderful event!
Reilly Spring Jamboree presents Jack's Western Swing on Saturday, April 22nd at 7 p.m.
Reilly Springs Jamboree presents Jack's Western Swing Round Up with Louise Rowe and the Texan Playboys along with Caroline Grace Wiseman and Abby Payne on Saturday, April 22nd at 7 p.m.  Reilly Springs Community Center is located at 109 CR 1439 in Sulphur Springs.  For more information call Allison Phillips at (903) 348-7321 or Enola Gay at (903) 438-3568 or visit www.jackphillipsmusic.com.
Posey Baptist Church hosts The Haystacks on Sunday, April 23rd at 6 p.m.
Posey Baptist Church will host The Haystacks in concert on Sunday, April 23rd starting at 6 p.m.  The Haystacks are a local gospel youth choir under the direction of Kevin Wooley.  Posey Church is located at 4620 FM 71W in Sulphur Springs.
Workforce Solutions is hosting a Career & Community Resource Expo on April 25th
Workforce Solutions of Northeast Texas is hosting a Career & Community Resources Expo at the Hopkins County Civic Center on Tuesday, April 25th from 9 a.m. to 2 p.m.  They are accepting vendors on a first come first served basis with a deadline for vendors of April 10th.  Exhibitor space is limited.  For additional information, please call Workforce Solutions at (903) 885-7556 x 414.  If you are needing resources to make resumes and copies for the Expo, stop the Sulphur Springs Public Library at 611 N. Davis Street.  The Library has a website to help create resumes, and printing costs .20 per page.  They are open from 9 a.m. to 6 p.m. each weekday, Thursday 11 a.m. to 8:00 p.m., and Saturday from 9 a.m. to 1:00 p.m. If you need more information from the Library, call (903) 885-4926.
Rotary of Sulphur Springs will host their Claws for a Cause Festival on Saturday, April 29th
The Rotary Club of Sulphur Springs is hosting their annual Claws for a Cause Fundraiser on Saturday, April 29th on Main Street in Sulphur Springs.  Tickets may be purchased online before the event, and at the door for $30 each.  The event begins at 5 p.m. and will last until 9 p.m. or when they run out of crawfish!
CANHelp is hosting a Tennis Tournament Fundraiser on Saturday, May 6th at 8:30 a.m.
CANHelp is hosting their Third Annual Tennis Tournament and Fundraiser on Saturday, May 6th at the Sulphur Springs High School Tennis Counts.  Check-in begins at 8:30 a.m. The tournament will be a Round Robin style for all age levels and skill types. Proceeds from this event will allow CANHelp to continue to provide important services to the residents of Hopkins County in times of need.  Entry forms are available at CANHelp, 613 Gilmer Street in Sulphur Springs, or online at www.canhelponline.org.
Cinco de Mayo will be held Downtown on Friday, May 5th
Cinco de Mayo will be held downtown on Celebration Plaza on Friday, May 5th from 5 p.m. to 11 p.m.  There will be a piñata contest, best taco contest, kid friendly games and even more!  There is no cover charge to attend.
Celebration Plaza will host Reds, Whites, & Brews on Saturday, May 6th
Celebration Plaza will host Reds, Whites, & Brews Beer and Wine Festival on Saturday, May 6th from 2 p.m. to 7 p.m.  All proceeds benefit the Buried Bone Foundation.
Northeast Texas Choral Society will hold Spring Concert on May 6th and May 7th
The Northeast Texas Choral Society presents Touchstone, The Music That Makes Your Heart Remember, on May 6th at 7 p.m. and May 7th at 2 p.m.  The concerts will be held at the SSHS Auditorium.  You may purchase tickets from Choral Society singers, online at www.netchoral.org, City National Bank, Alliance Bank, and Guaranty Bank & Trust.
Etiquette by Emily is hosting an Afternoon Tea on Sunday, May 7th from 2 p.m. to 4 p.m.
Reserve your ticket TODAY for this special event being held on Sunday, May 7th (week before Mother's Day) from 2:00 p.m. to 4:00 p.m. at The Venue at two nineteen and catered by Lyndsay's Plates + Provisions. Tickets are $30 each. Attendance is limited to 40 people to help enhance your experience. Bring your spouse, friends or come to meet new friends! Please email [email protected] or call 903-243-6222 for your reservation!
Cypress Basin Hospice is hosting a Golf Tourney on Monday, May 8th
Cypress Basin Hospice's 14th annual "Get Away & Play" Golf Tournament is scheduled for Monday, May 8th at the Mount Pleasant Country Club.  Registration is now open and you can register your team of 4 online by visiting their website, www.cbhospice.org. Entry fee for this 4 person scramble tournament is $400 or $100 per golfer. Community support from fundraisers such as our "Get Away & Play" golf tournament allow Cypress Basin Hospice to deliver quality, end of life care, to all hospice appropriate patients regardless of their ability to pay. Sponsorship and donation opportunities are still available. Contact Niki Haynes at (903) 577-1510 for more information.
Danna's & The Florist are preparing to move to their new location with a SALEABRATION
Danna's & The Florist is celebrating 20 years with a move to a new location at 438 Gilmer Street this summer.  In order to make that move, Danna's is cleaning out inventory to make room for fresh new things and some good ole junk with a huge sale!  Make plans to stop by the current location at 301 East Industrial in Sulphur Springs, and then again this summer once she is moved to her new location!
AgriLife Extension Service is offering their Twogether in Marriage Workshop on Saturday, May 20th
The spring Twogether in Texas Marriage Education Workshop is scheduled to begin at 8:30 a.m.  The free workshop includes Marriage Expectations, Communication, Conflict Resolution, Money Management, and Goals & Dreams.  Lunch, materials, and refreshments will be provided.  Engaged couples will receive a certificate to save $60 upon applying for a marriage license.  Contact Johanna Hicks at the Texas A&M AgriLife Extension Service – Hopkins County Office, at 903-885-3443 to sign up.
Ribbon Cuttings: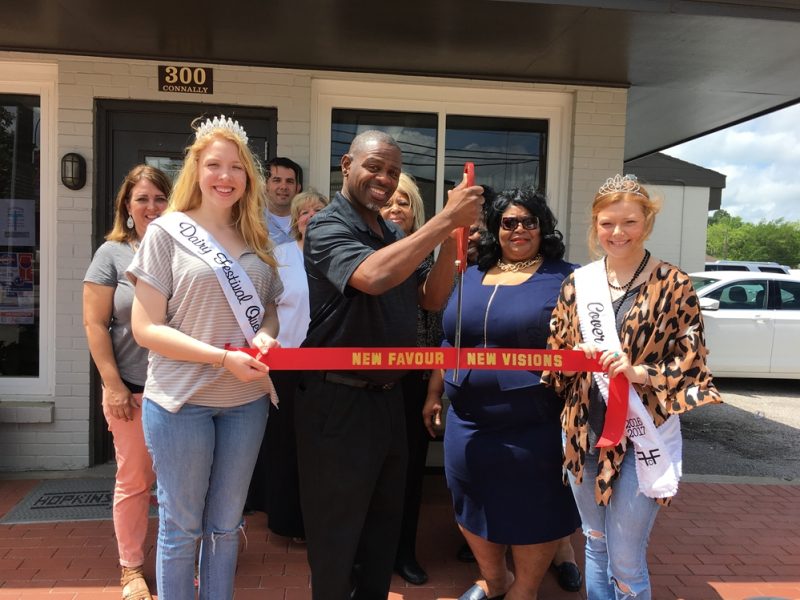 New Favour/New Visions hosted a Ribbon Cutting Celebration at the Chamber on Wed., April 19th
New Favor/New Visions hosted a Ribbon Cutting Celebration at the Chamber of Commerce, 300 Connally Street, on Wednesday, April 19th at noon.  New Favour is a nonprofit organization designed to mentor and educated today's school age children.