Monday afternoon, The Way Bible Church posted to social media a letter to members of the congregation that meets in the Martin Springs Community at FM 2560.  The letter defined the relationship between the church and The Way Radio Group that owns two local radio stations. One of those stations, The Way, is a Christian station that airs the worship service of the church for a fee.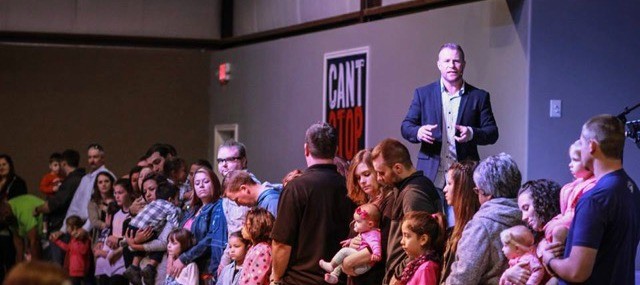 The letter was issued in response to an article published on ksstradio.com following the arrest of the former manager for The Way Radio Group. Craig Thomas "Moose" Morgan was arrested Monday and charged with a Felony 3 Theft of Property more than $2500 but less than $30,000 and with Giving False Statement to Obtain Property or Credit, a State Jail Felony.
Although the church and the radio group shares a name, the letter confirms to members that the church has no financial interest in the radio station or any ownership in the radio group. Pastor Joel Tiemeyer did host the morning show for the Christian station during its first year of operation "…to help launch a Christian radio station in the Northeast Texas area," according to the letter.
In conversation with Morgan some time ago, he told KSST News that he had asked permission of The Way Bible Church to use "The Way" in the name of the radio group. He stated that he did not want to create any confusion with the name. Just months ago, in conversation with Pastor Tiemeyer, he confirmed the two entities were not joined in any business venture other than the church paying for air time to broadcast their services.
The letter:
Dear TWBC family,
We have just read the article published by KSST and other organizations reporting the situation involving 99.7 FM The Way & 107.1 Thunder Country owned by The Way Radio Group.
The Way Radio Group is a privately owned business that is not affiliated with The Way Bible Church.
Pastor Joel worked at 99.7 The Way as a Radio Morning DJ for the first year of 99.7 FM The Way to help launch a Christian radio station in the Northeast Texas area.
Since then he has offered his insight spiritually and in other volunteer roles as needed to help The Way Radio Group provide Christian radio in the Northeast Texas area.
TWBC has no financial interest or ownership in The Way Radio Group as we are completely separate entities.
We would ask that you keep all individuals involved lifted up in prayer as this is a trying time for many families.
If you have any questions please contact TWBC @ 903-438-2363
Sincerely, The Way Bible Church