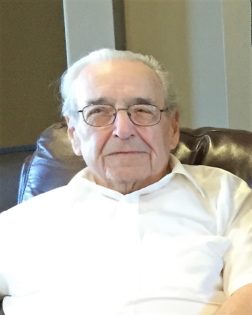 Roy J. DeSilvey, 92, of Shreveport, Louisiana, passed away on March 5, 2017, at his daughter's home. Funeral services will be held at West Oaks Funeral Home Chapel in Sulphur Springs, Texas, on Sunday, March 12, 2017 at 2:00 p.m. with Reverend J. V. Thomas officiating assisted by Reverend Tom Friday. A private family burial will follow at Richland Cemetery, Como, Texas. Visitation will be held at West Oaks Funeral Home on Saturday, March 11, 2017 from 6:00-8:00 p.m.
Roy was born in Biloxi, MS, to Roy J. DeSilvey, Sr. and Katie Toups DeSilvey on February 26, 1925. He married Rita Hebert on September 19, 1942 in Harvey, LA. She preceded him in death. Roy was a Southern Baptist Minister for 57 Years. He is survived by children Ron DeSilvey and wife Mary, of Fordoche, Louisiana; Lynne Foster of Palestine, Texas; Becky Riels of Como, Texas; and Rhonda Honea and husband Bruce, of Shreveport, Louisiana. Also surviving are his 10 grandchildren, 24 great-grandchildren, and 6 great- great grandchildren, numerous nieces and nephews and many, many friends. In
Lieu of flowers, memorials may be made to Richland Cemetery perpetual care fund, 4553 F.M. 1563, Wolfe City, Texas.
The family wishes to extend their gratitude to Hospice of Shreveport-Bossier, Dr. Michelle Self and Dr. Robert Martin.
Arrangements are under the direction of West Oaks Funeral Home.