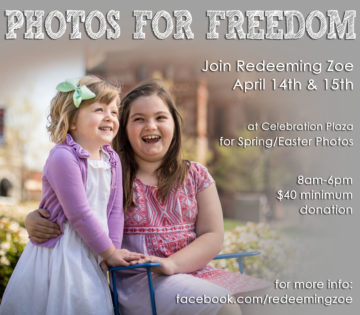 "Photos for Freedom" provides area residents an opportunity to become involved in an effort to fight human trafficking. The event is set for Celebration Plaza April 14 & 15. (See accompanying photo.)
Redeeming Zoe is a faith-based 501 c-3 dedicated to giving hope and a future in Jesus Christ to at-risk and exploited children in the Philippines. CEO, Hillary Evans, and Marketing Director, Becca Haskell, founded Redeeming Zoe in 2016.
Both graduates of Texas A&M University-Commerce worked with an orphanage in the Philippines for a year. That experience opened their eyes to the epidemic of human trafficking. They saw, first hand, girls being trafficked by boat and children having to meet certain quotas for their pimps as they sold snacks on the streets. They could not sit back and do nothing.
Over the last year, they have been gathering research and meeting with other organizations on what the best way to approach this fight would look like. Over the next five years, Redeeming Zoe will make efforts to plant a community center in Cebu City, Philippines. Their focus will consist of reaching the community, strengthening the family and saving children from the devastation of child exploitation. As exploitation increases, it is becoming more available and profitable online.
Hillary and Becca are dedicated to putting programs in place that bring value to the families in the Philippines. They are currently in the process of raising funds. In April they will be hosting an event called "Photos for Freedom". There will be two photographers on site and an informational table with t-shirts for sell as well.
Based out of Sulphur Springs Texas, Hillary and Becca will be moving to Cebu City Philippines. They are available for speaking engagements at events, churches, schools, and other venues as they raise funds for their efforts to fight child exploitation.