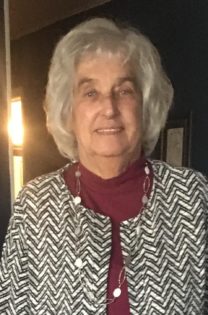 Funeral services for Mary K. Barnhart, age 87, of Como will be conducted at 3:00 p.m. Sunday, March 19, 2017 at Como Methodist Church with Rev. Beverly Olson officiating.  Interment will follow at Como Cemetery with the grandsons and great-grandsons serving as pallbearers.  Honorary pallbearers will be the Barnhart Farming Employees.  Visitation will be from 2:00 to 3:00 p.m., prior to service time at the church.  Mrs. Barnhart passed away Thursday, March 16, 2017 at Carriage House Manor.
She was born on July 25, 1929 in Dover, NJ, the daughter of John Kuchta and Julia Czarnogurszky. She married James Joseph Barnhart on December 26, 1951 and he preceded her in death on January 18, 2015.  Mrs. Barnhart was a homemaker and a member of Wesley United Methodist Church.  She is survived by her children, Babs Clark and husband Danny of Poteau, OK, Bonnylee Barnhart Walker of Como, Jamie Humphrey and husband Mark of Como, Jimmy Barnhart and wife Krista of Como, grandchildren, Samantha Parkhill and husband Jason, Josie Burchfield and husband Kevin, Lisa Clark, Mandi Garhartt and husband Dustyn, Mitchell Walker and fiancé Shelby Sutton, Kathryn Kuchta Humphrey, Clayton Humphrey, Rebecca Hicks and husband Bryan, Sheala Barnhart, Kason Barnhart and wife Kaci, Jurnee Hayward and husband Buster, great-grandchildren, Jenna Parkhill, Colton Clark, Jalyn Burchfield, Auston Burchfield, Hunter James Potter, Halee Potter, Easton Hicks, Jaci Hicks, London Hicks, Javen Barnhart, Joslin Barnhart, Jenesis Barnhart, Sienna Garhartt and Madden Barnhart.
In addition to her husband she was preceded in death by her parents, grandson, Denton Joseph Barnhart, great-grandson, Dawson James Hicks, one brother and three sisters.
Memorials may be made to St. Jude Children's Research Hospital at www.stjude.org or Como Cemetery Association, 5693 FM 69, Como, TX 75431.
Arrangements are under the direction of West Oaks Funeral Home.