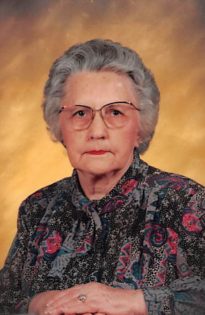 Graveside services for Jessie Baucum, 95, of Sulphur Springs, will be held at 2:00 p.m., Saturday, March 25, 2017 at Greenview Cemetery with Dr. Jimmy Henry officiating. There will be no formal visitation. Jessie passed away on Thursday, March 23, 2017 at Rock Creek Health and Rehab.
She was born on July 6, 1921 in Huttig, AR, the daughter of Will Jackson and Ozella White Hendrix. She worked as a seamstress for Howard Wolf Manufacturing for many years. She is survived by son, Douglas Baucum and wife Patricia of Mesquite, daughter, Jean Vititiow and husband Jerry Sr. of Sulphur Springs, one brother, four sisters, six grandchildren, eight great-grandchildren, and four great-great-grandchildren.
She was preceded in death by her parents, son, Marion Jackson Baucum, and two grandchildren, Tina Michelle Baucum and Jerry Wayne Vititow Jr.
Arrangements are under the direction of West Oaks Funeral Home.