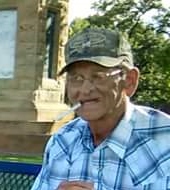 Funeral service for Gerald Hugh "Jerry" Cooper, age 78, of Weaver will be held at 11:00 A.M. on Saturday, March 25, 2017 at Murray-Orwosky Funeral Chapel with Bro. Tom Friday officiating.  Interment with  military honors will follow at Weaver Cemetery with Cody Skelton, Corey Cooper, Ray Shockey, Russell Flannery, Randy Davison and Jimmy Don Goldsmith serving as pallbearers. Visitation will be held from 6 to 8 PM on Friday, March 24, 2017 at Murray-Orwosky Funeral Home.
Mr. Cooper passed away Tuesday, March 21, 2017, at the VA Medical Center, Dallas, TX.   He was born on March 21, 1939, in Texarkana, the son of William Robert and Verna Ilene (Nix) Cooper.  He married Marjorie Blanche Turner (she survives), he then married Lynn Clover who passed away in 2007.    Jerry was in the Air Force as a Mechanic and had the distinction of being a Golden Glove Boxer.  He was a member of the American Legion and had a lifelong career as a truck driver.
He is survived by his daughter, Lisa Skelton of Shelbyville, MO; son, Scott Cooper and wife Jennifer of Bethel, MO; sister, Frances Rucker of Livingston, MT; grandchildren, Alyssa Cooper, Cody Skelton, Courtney Cooper, Brianna McColgan, Corey Cooper, Allie Skelton, Abby Cooper, Jill Ann Sinclair, Miranda Osornio Alkire, Jose Osornio, Matthew Clover; numerous great grandchildren.
Jerry was preceded in death by his parents; wife, Lynn Cooper; sisters, June Cooper and Louise Nation; brother, Wayne Cooper.
Memorials can be made to the American Cancer Society at www.cancer.org .
Arrangements are under the direction of Murray-Orwosky Funeral Home.