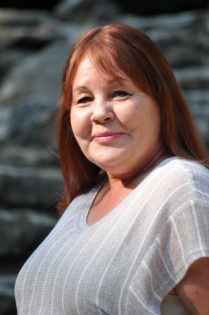 Funeral services for Diann Perry, age 60, of Sulphur Springs will be conducted at 2:00 p.m., Saturday, April 1, 2017 at Peerless Baptist Church with Marc Farnell officiating.  Interment will follow at North Hopkins Cemetery with Brandon Joslin, Ray Smith, Russell Smith, Ken White, Joe Wallace and Justin Shiever serving as pallbearers.  Honorary pallbearers will be Alex Olinsky, Dale Perry, Branson Thomas, Jacent Wilkinson, Dennis Taylor and Jerry Wilson.  Visitation will be from 6:00 to 8:00 p.m., Friday, March 31, 2017 at West Oaks Funeral Home.  Diann passed away Tuesday, March 28, 2017 at her daughter's home in Little Elm, TX.
Diann was born on September 16, 1956 in McKinney, the daughter of Omar G. Smith and Nella Mae Moon Smith.  She married the love of her life, Robert Perry, on June 4, 1976 in Celina, TX, and he preceded her in death on June 5, 2008.  Diann was the Lab Manager for Saputo, where in the beginning was Morning Star and worked for the company for 27 years.
Diann is survived by her children, Shaun Perry and wife Corinna of Sulphur Springs, Stefani Olinsky and husband Steve of Little Elm, brothers, John Smith and wife Margie of Sulphur Springs, Jimmy Smith and Mike Smith both of Atoka, OK, sisters, Wanda Faye Harper, Helen Perry and husband Jim and Brenda Sue Yarbrough all of Atoka, OK, grandchildren, Zachary Terry, Shelbi Perry, Jacelyn Wilkinson, Robert Perry, Evie Fuentes, Briana Fuentes, Elijah Fuentes, Samantha Olinsky and Alex Olinsky.
In addition to her husband, she was preceded in death by her parents and sister, Pamela Joyce Keys.
Arrangements are under the direction of West Oaks Funeral Home.