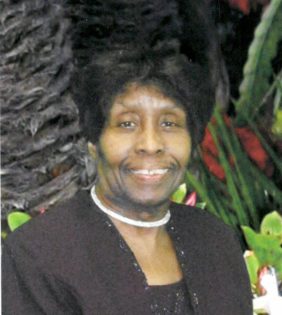 Funeral service for Clydemae "Clydia" Boyd, age 76, of Sulphur Springs, will be held at 12:00 P.M. on Saturday, March 18, 2017 at Mitchell Chapel Church of God in Christ with Bishop Nelson Gatlin officiating.  Interment will follow at Coffee Cemetery, Como with Johnny Wright, Mario Thomas, Bryant Jackson, Jeremy McGill, R.V. Jones and Reginald Thomas serving as pallbearers and Bill Barrett, Lester Henley and Joel Peoples serving as honorary pallbearers.  Visitation will be held one hour prior to service.  Mrs. Boyd passed away Wednesday, March 15, 2017, at Christus Mother Frances Hospital, Sulphur Springs.
Missionary Clydemae Godbolt Boyd was born on November 18, 1940 in Winnsboro, TX to the parents of the late Wister Godbolt and Corine Finne.  Clydemae Godbolt Boyd grew up in Winnsboro, TX and attended Como school in the Gaililee community. She then graduated from Douglas High School of Sulphur Springs, TX in the year of 1961.  Clydia worked at Hopkins Co. Memorial Hospital as a nurse's assistant for 36 years, retiring in 2000.  She was later given evidence that God called her into the Missionary Ministry.  She was licensed to share the gospel as she may have opportunity and to exercise her gifts in the work of the ministry.  She was faithful to her home church and to the Sherman District and to the State 3rd Jurisdiction, and faithful to the C.W.C and worked with the Sherman District Sunshine Band and served on the Mothers Board, she also lifted her voice with the Senior Choir.
Clydia is survived by, two daughters, Glovene Johnson and Yvonne Thornton of Sulphur Springs, TX; one son, David Ray Hunter of Sulphur Springs, TX; brothers, Rickey (Anita) Godbolt, Wister (Dorothy) Godbolt Jr., David Godbolt and sisters, Jackie (Leonard) Jackson, Dollie Kelly and Patricia Morgan, all of Sulphur Springs, TX; four grandchildren, Shatameria (Brandon) Wright of Tyler, TX, Selena Givens of Sulphur Springs, Chantile Savage of Commerce, TX and Mylon (Shawanda) Ivery of Garland, TX; 11 great grandchildren and 5 great great grandchild and a host of friends and relatives.
She was preceded in death by her parents; son Lavonne A. Brooks; brother, Odell Godbolt; sisters, Ann Clayton, Dorothy White and Maedell Greenwood.
Arrangements are under the direction of Murray-Orwosky Funeral Home