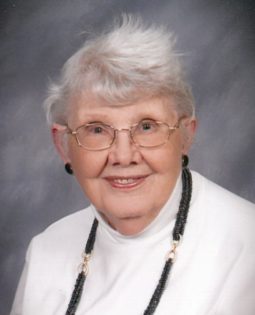 Funeral Service for Doris Nell Horn Burkham Moon, age 91, of Sulphur Springs, will be held at 2:00 P.M. on Saturday, March 4, 2017 at First Baptist Church, Spence Chapel with Rev. Fred Lewis officiating. Interment will follow at Tira Cemetery with Chip Vaughn, Gary Burkham, Mike Lyon, Robert Horn, John Horn, David Horn, Aaron Morrison and Rick Patterson serving as pallbearers. Visitation will be held one hour prior to service at First Baptist Church, Spence Chapel.
Mrs. Moon passed away Wednesday, March 1, 2017, at her residence. She was born on July 3, 1925 in Hopkins County, the daughter of Maxville and Vesta (Harmon) Horn.  She married Melvin L. Burkham on November 20, 1945 and then Howard Glenn Moon on October 2, 1982.   Doris graduated from Cooper High School in 1942 and attended Junior College at Eastfield College in Mesquite, TX.  Doris was a member of First Baptist Church, Sulphur Springs, an accomplished pianist, member of Silvertones Choir, 60 years with the Sanctuary Choir, Diamond Set member, Carriage House volunteer & music leader, Sunday school teacher and retired from Federal Government (Social Security Admin).
She is survived by daughter, Ruth Catherine Morrison; sons, Melvin Douglas Burkham of Dallas and Howard Ray Burkham of Bedford; grandchildren, Aaron Morrison, Anna Morrison, Lydia Morrison Rivera, Gary Burkham, James Burkham, Canaan Burkham, Elizabeth Sulzer, Courtney Reyes and Amy Cooper; great grandchildren, Mallory Rivera, Samuel Rivera, Benjamin Rivera, Everett Morrison, Avery Burkham, Adyson Burkham, John Cooper Jr, Susannah Cooper, Wallace Cooper, Scott Vallee, Trenton Vallee, Mayzie Reyes, Gage Reyes, Julian Crespo.
She was preceded in death by her parents; husbands; four sisters and four brothers.
Arrangements are under the direction of Murray-Orwosky Funeral Home.