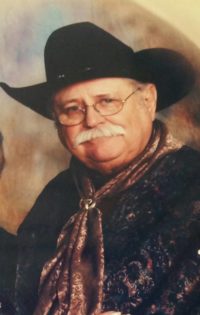 William Carroll West, 83, was born in Dallas, Texas on August 5, 1933. He passed away on February 15, 2017 in Sulphur Springs, Texas. Mr. West died in his sleep Wednesday, February 15th, at Carriage House Manor and the Cottages. He and wife Angie had lived in Lancaster, Texas until September 2016 when they moved to Wesley House Cottages and then into Wesley Assisted Living.  He was a retired Dallas County Sheriff's Deputy and Family Court Bailiff in Dallas. He and his wife also owned an equestrian stables for Arabian horses. Known as "Sycamore Willie", he was active in western shooting and a connoisseur of western art.
He is survived by his wife of 40 years Mary Angeline West; daughters, Carol Lorraine West and Judith Lynn Rogers;  son, James Raymond West; Grandchildren; Julie Windsor, Rachel Martinez, Jim West, Allen Smith, Tara Yamamoto, Jonathan Smith, and 20 great grandchildren; Step children, Jay Freeman, Clay Freeman and Matthew Freeman; step grandchildren, Grant Freeman, Paris Freeman, Jared Dow, Meagan Freeman, Flint Freeman; brother, James Raymond and wife Bobbie West; nieces, DeLana Varner and Deanna Hamilton; nephews, Darryl West and Darren West and 14 great nieces and nephews.
Visitation will be held Saturday February 18, 2017 at 1:00PM. Funeral Services will be held at 2:00 PM, Saturday, February 18, 2017 at Grove Hill Funeral Home Located at 3920 Samuel Blvd. Dallas, Texas 75228, interment to follow at Grove Hill Memorial Park.
In Lieu of flowers, please make donations to The Woods United Methodist Church, 1350 Bardin Rd, Grand Prairie, TX 75052.Funeral Services for William Carroll West, 83, will be conducted Saturday, February 18, 2017 at Grove Hill Memorial Park Cemetery, 3920 Samuel Blvd, Dallas.