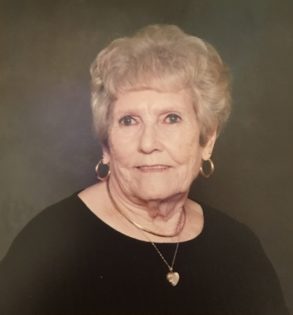 Funeral Mass of Christian burial for Jenita Morton Cegelski, age 93, of Sulphur Springs will be conducted at 3:00 p.m., Sunday, February 5, 2017 at St. James Catholic Church with Father Juan Carlos Sardinas officiating. Interment will follow at Reilly Springs Cemetery with Mark Morton, Mason Morton, Jason Romans, Steven Starks, Eric Heinle, Andy Mitchell, Jeremiah Bradford and Tyler Messimer serving as pallbearers.  Honorary pallbearers will be the great-grandchildren. Visitation will be from 6:00 to 8:00 p.m., with Rosary beginning at 5:30 p.m., Saturday, February 4, 2017 at West Oaks Funeral Home.  Jenita passed away on February 1, 2017 at Carriage House Manor.
She was born on November 30, 1923 in Hopkins County the daughter of Earl Frazier and Evie Melton Frazier.  Jenita married Earnest Morton on July 1, 1944 in Reilly Springs and he preceded her in death on November 7, 1968.  She married Bennie S. Cegelski on May 24, 1981 in Lake Tawakoni and he preceded her in death on August 16, 2009.  Jenita was a homemaker and a member of St. James Catholic Church.
She is survived by her children, Diane McKinney and husband Joel of North Richland Hills, Rickey Morton and wife Teresa and Eddy Morton and wife Kim all of Sulphur Springs, Tom Cegelski and wife Sarah, Stephen Cegelski, Donna Rohling and husband Ed, David Cegelski, Mary Cegelski, Michael Cegelski and Cindy Anderson, sisters, Merle White and Helen Harrell, grandchildren, Kelly and Steven Starks, Shelly and Eric Heinle, Jason and Tamany Romans, Tarra and Tyler Messimer,  Mandi and Andy Mitchell, Mark and Krystal Morton, Magan and Jeremiah Bradford, Mason Morton, Tommy and Laura Cegelski, Alex Cegelski, Eric and Ashley Cegelski, Amy Cegelski, Chad Cegelski, Carlos Cegelski, Trip Rohling, Genny Rohling, Regina Smith, Matthew Curling, Hayden, Connor and Anna Anderson, great-grandchildren, Paige, Brian, Hayden, Gracie, Justin, Avery, Gage, Parris, Mabry, Maverick, Karoline, Boone, Jed, Morgan, Ryan, Taylor, William, Piper and Peyton.
In addition to her husbands, she was preceded in death by her parents and brother, James Earl Frazier.
In lieu of flowers the family request memorials be made to Reilly Springs Cemetery, 1608 CR 2436, Sulphur Springs, TX 75482.
Arrangements are under the direction of West Oaks Funeral Home.