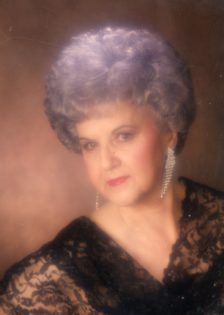 Mrs. Bobbie Jean Ellison, age 94, of Sulphur Springs, formerly of Winnsboro, passed away peacefully on Tuesday, February 7, 2017 at Carriage House in Sulphur Springs. She was born on June 6, 1922 in Winnsboro to the late Robert Allen and Minnie Graham Allen. Bobbie graduated from Pickton High School, she then worked the make-up counter at Martin Drug, and later worked as a secretary alongside her husband at Western Commercial Transport in Grand Saline, then she helped manage The Fashion Shop in Winnsboro, as well being a devoted and loving wife and mother. She was a member of the First United Methodist Church in Winnsboro.
She was preceded in death by her parents; her loving husband of 46 years, Mr. J.T. "Sam" Ellison; two sisters, Doris Raley, Dorcus Duncan; and brother, Buford Allen.
She is survived by her son Ronnie Lynn Ellison of Winnsboro; daughter and son-in-law, Linda Gail Folmar and husband John of Sulphur Springs; grandchildren, Todd Folmar of Pickton, Chad Folmar and wife Holly of Sulphur Springs, Matthew Hallman and wife Casey of Whitehouse; great-grandchildren, Chasen Folmar of Pickton, Chandler Folmar of Lubbock, Carson Hicks of Sulphur Springs, Carson Nicole Folmar of Sulphur Springs; and several nieces and nephews.
Funeral services will be held at 2:30 PM on Friday, February 10, 2017 with visitation beginning one hour before at 1:30 PM, both at Beaty Funeral Home of Winnsboro, Bro. Henry Suche, Sister Linda Suche, and Bro. Fred Lewis officiating; interment will follow at Harmony Cemetery in Winnsboro, with Todd Folmar, Chad Folmar, Chasen Folmar, Chandler Folmar, Carson Hicks, and Matthew Hallman serving as pallbearers.