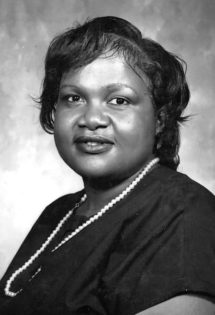 Funeral services for Betty Lou Thompson, age 59, of Sulphur Springs will be conducted at 11:00 a.m., Tuesday, February 21, 2017 at League Street Church of Christ with Dr. Jerry Taylor officiating.  Interment will follow at East Caney Cemetery with Aaron Ray, Joseph Garrett, Clyde Hines, Jr., Sherby Spivey, Jacob Lewis, Ricky Benton, Jeff Vaden and Kevin Rape, Jr.. Honorary pallbearer will be Jimmy Lynn Harrison.  Visitation will be from 6:00 to 8:00 p.m., Monday, February 20, 2017 at West Oaks Funeral Home.  Betty passed away on Thursday, February 16, 2017 at Christus Mother Frances Hospital in Sulphur Springs.
Betty was born on December 9, 1957 in Sulphur Springs the daughter of Harry Thompson and Dester Vaden Thompson.  Betty was a 1976 graduate of Sulphur Springs High School and a graduate of East Texas State University where she received her bachelor's degree and was member of the Delta Sigma Theta Sorority.  Betty worked as a Librarian for 10 years at the Sulphur Springs Public Library and taught elementary through high school.  She was a member of Martin Luther King Church of Christ.  Betty loved organizing events, such as block parties and she was the one the family depended on to organize family reunions.  Betty is survived by her brothers, Lendell Thompson of Sulphur Springs, Alvin Earl Stokes of Dallas, sisters, Janice McLaurin and Connie Anderson both of Wichita, KS, Carla Hines of Sulphur Springs and Arie Mae George of Dallas, numerous aunts, uncles, nieces, nephews and cousins.  She was preceded in death by her parents, brothers, Odell Thompson and Harry James Thompson.
Arrangements are under the direction of West Oaks Funeral Home.