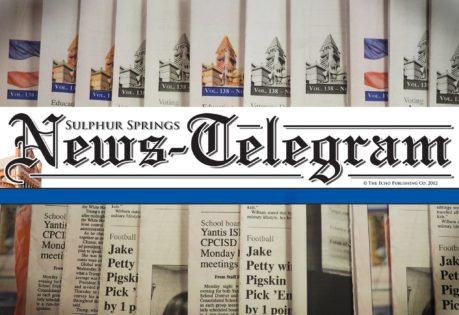 Ownership of the Sulphur Springs News Telegram, Country World, Neighborhood Shopper, and Down Home Living magazine will be transferred to Southern Newspapers according to an agreement in principle announced by Echo Publishing Company Tuesday in a News Telegram front page story .
Dolph Tillotson, President of Southern, assured the staff of the publications that no major changes are planned in staffing or in publications or frequency of publication. Scott Keys, President and COO of Echo Publishing stated that SNI has the same respect for community and values that have guided the Frailey-Keys family during the 65 years of ownership of the local paper. Keyes noted in a News Telegram front page story Tuesday that the single, family-owned daily newspapers are almost impossible to maintain.
Echo Publishing will continue operating its Commercial Printing division and both the newspaper and the printing company will be housed in the current facility. Echo Publishing Company will maintain ownership of the building and the newspaper will rent space for two years following finalization of the sale.
Southern Newspapers Inc, a privately owned Texas corporation, currently owns the Paris News, Texas' oldest newspaper The Galveston County Daily News, and newspapers in Lufkin, Nacogdoches, New Braunfels, Seguin, Kerrville, Baytown, Bay City, Del Rio, Lake Jackson-Brazoria County, three newspapers in Alabama, and one in Tennessee. Founded in the 1950's by B. Carmage Walls, the company is owned today by his daughter Lissa Williams Walls.
Since the days of F. W. "Bill" Frailey and William "Bill" Bradford, KSST and the News-Telegram worked together promoting the progress and growth of Sulphur Springs and the surrounding area. Frailey served as publisher of the newspaper until 1975 when his son-in-law, Clarke Keyes was named publisher. Keys' son Scott became publisher in 1995.