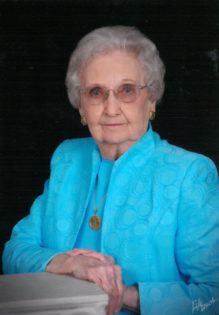 Funeral service for Wilma Ruth Vaden Brice, age 96, of Sulphur Springs, will be held at 11:00 A.M., on Saturday, January 28, 2017 at Murray-Orwosky Funeral Chapel with Dr. Lynn Turner officiating. Interment will follow at Tira Cemetery with Billy Price, Jeff Trollinger, Spencer Brewer, Josh Nugent, Tom Sellers and John Sellers serving as pallbearers.  John Nugent, Keith Brice, Dr. William H. Long, Tommy Long, Frank Long, Carl Bryan, Mickey McKenzie, Dr. Paul Bennett, Jerry Hunter, Dr. Chuck Jones and Andy Rouse serving as honorary pallbearers. Visitation will be one hour prior to the service.
Mrs. Brice passed away Tuesday, January 24, 2017 at her residence.  Wilma Ruth Vaden Brice was born November 6, 1920 to Bessie Jewel (Leewright) Vaden and Roy Lodwick Vaden.  She grew up in the Old Tarrant Community of Hopkins County.  She married Carl Stanton Brice on December 20, 1941 in Cooper, Texas.  Mrs. Brice was a member of the Church of Christ, first at Old Tarrant and later at League Street Church of Christ.  She attended East Texas State Teachers College and taught school in Ridgeway until 1943.  During World War II, she followed her husband, who was in the Navy, to South Bend, Indiana, Cambridge, Massachusetts and Sea Island, Georgia.  During the Korean Conflict, they lived in California.  After returning to Sulphur Springs, she worked at AMPI and Koon's Feed Store. Mrs. Brice was a member of Daughters of the American Revolution.
Mrs. Brice is survived by her daughters,  Betty Brice Chapman of Austin and Carla Brice and husband Peter Daly of Rockwall; grandchildren,  Jennifer Chapman Banda and husband Burke of Austin and Trey Chapman and wife Melissa of Dallas; step-grandchildren, Dr. Marymegan Daly and husband Kai Raab of Columbus, Ohio and Jill Daly and husband Joe Vierbuchen of Maryland; great grandchildren, Brice Thornton Banda, Elizabeth Lee Banda, Tyler Stanton Chapman, Graham Edward Chapman and Nora Daly Raab; Sisters-in-law, Lucy Vaden and Jackie Brice both of Sulphur Springs and Ann Brice of Bedford; Nieces, Janet Price and husband Billy, Vicki Nugent and Karey Brice; Nephew, Keith Brice; Great Nieces, Kristi Brewer and husband Brandon, Paige Trollinger and husband Jeff, and Kacie Thompson; Great nephews, John Nugent and Josh Nugent; Numerous great-great nieces and nephews; Friends who are like family, Peggy Dial, Lavern (Pat) Hall and Joyce Tyler.
Her husband preceded her in death in 1997.  She was also predeceased by her brother, Leewright Vaden; brother-in-law, Randell Brice; and an infant baby sister.
The family would like to thank the very caring Wesley House Staff.
Arrangements are under the direction of Murray-Orwosky Funeral Home.