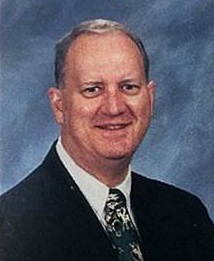 William K. (Bill) Byerly went to his heavenly home Sunday, January 8, 2017.  Bill was born in Lake Charles, Louisana on March 19, 1941 to Kinzie L. (deceased) and Dorothy Byerly who survives.
Bill went to 19 different schools before graduating from Sulpur High School in Sulpur, Louisana.  Bill graduated from East Texas State now Texas A and M Commerce where he fell in love and married Sandra Kay Smith in Arlington, Texas.  They were blessed with two children and three grandchildren.
Bill retired as a scout executive with the Boy Scouts of America.  Following his time with the Boy Scouts Bill became the Director of Family Ministries at Marvin United Methodist Church.  His time at Marvin saw the beginning of the senior adult ministries or the "Grown-Ups" and an extensive travel program for them.  Bill's responsibilities also included the Men's Ministry, the church recreation program along with special church dinners and functions.  Bill loved serving the Lord and mentoring many who came into his life.
Bill and Sandy shared a wonderful life together living in Texas, Oklahoma, Louisiana and finally back to Tyler making many friends along the way.  Bill loved to travel and explore the world.  Bill was often planning his next cruise or bus trip.  Bill has many lifelong friends who always knew they could count on him.  Bill loved people and made friends easily.  Their daughter Christi Byerly and her son William Zachary Byerly live in Bryan, Texas.  Patrick, Bill and Sandy's son, lives in San Diego, California with his wife Jill and their children Bella and Blaze.  Bill is also survived by his sister Brenda Byerly and family, Bob Byerly and family, John Byerly and family along with numerous aunts, uncles and cousins.
Services for Bill will be Wednesday, January 11 at 11 am at Marvin Methodist Church 300 West Erwin Street, Tyler, Texas with visitation to follow.  Burial will be at Restlawn Cemetery Hwy 154 in Sulphur Springs, Texas under the direction of Murray-Orwosky Funeral Home, Sulphur Springs, Texas.  Memorials can be made if desired to Marvin United Methodist Church Eternal Flame Fund.  Honorary pallbearers include Gary Vincent, John Hopkins, George Tefteller, Dr. Duane Andrews, Jeff Ford, Bud Buschardt, Rev. Jim Ross, Dr. Jim Garrett, Leon Anderson, Quinton Chamness, Mike Cannon, Garvis Avants, Doug Hunsley, Ron Sallee, Vern Broadus, and Johnny Grigsby.
Arrangements are under the direction of Murray-Orwosky Funeral Home.