The North Hopkins Beta Club ended the 2016 semester with 60 member students and a blockbuster canned food drive for Hope House. At over 2,780 pounds, theirs was the largest single donation toward the Delta County charity. New projects for 2017 include a recycling project, a coat drive and a club fundraiser. Members will do morning coffee sales, fruit sales and online cake auctions to raise money for  State Convention coming up February 24-26 in Frisco, Texas where Club President Mattie Hall will run for Texas State Vice President.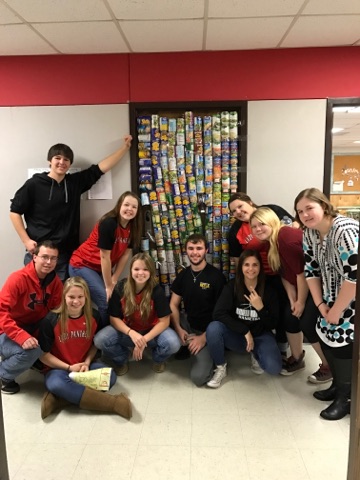 Senior Betas blocked the door to their Government teacher's class to demonstrate the size of the food donation in the Block the Door Initiative Pictured are: Colton Ross, Aaron Stanley, Melissa Wischerman, Carli Withrow, Christian Matlock, Hollie Stidham, Allyiah French, Kaylynn Allen, Mary Brown and Mattie Hall.
Mrs. Brandenburg's second-grade class assisted in the Beta Club drive.