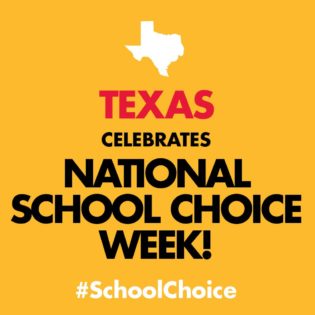 Stating Monday, this week represents the largest series of education-related events in Texas history, according to Andrew Campanella, president of National School Choice Week, who said Governor Gregg Abbott's proclamation to observe the week in Texas will bring Texas families alongside teachers, community leaders, and elected officials to celebrate opportunity in education. The week of activities comes at a time when public schools and some legislators in Texas are decrying the new A-F grading system which they say is a precursor to voucher systems and the cutback of state funds to public schools.
The School Choice Week, January 22-28, will see 1,593 events planned in Texas this week to raise awareness regarding K-12 school choices. There are 21,392 events nationwide. Events in Texas include activities in Collin, Lynn Shackelford, Medina, and Terrell Counties. Communities in Texas participating with events and proclamations include New Boston, Honey Grove, Hillsboro, Combine, Ferris, Irving, hackberry, Hamlin, Italy, Sachse, Nacogdoches, and others.
The events are independently planned and independently funded. They will include information sessions, open houses at schools, policy discussions, movie screenings, and rallies. A large rally for school choice is set for January 24, 10 a.m. on the south steps of the State Capitol building.
Organizers say the event will provide families in Texas with opportunities to research and evaluate the k-12 school choices available for children in advance of the 2017-18 school year. Options of choice include: traditional public schools, public charter schools, magnet schools, private schools, online learning, and homeschooling.
Michael Lamb, Superintendent of Sulphur Springs Schools told KSST News that he sees the event as an acknowledgement that in Texas there are good choices for students. He noted three private schools in Sulphur Springs. Two of the private schools are K-5 and one is K-12. He states this gives students in our area four good choices as they seek to access good schools. He says school choice should be celebrated. He also noted that every school in county, except Sulphur Springs, is an open enrollment school. Thus, throughout the county there are a ton of good choices, according to Lamb.
In early voting on a ksstradio.com poll, 31% of votes cast give Sulphur Springs public schools and A, 17% give them a C and 17% give a D. B's came in at 15% and F's come in at 13%. An additional 8% said the letters do not fully express their feelings toward SSISD schools.
State Representative District 2, Dan Flynn said he is concerned for Texas public schools as the rating system in Texas changes. He stated that several good schools in his district will receive multiple D-F letter grades which he says are inaccurate. Flynn stated he is committed to replacing the scoring system with a system that more accurately represents the state of Texas schools and school districts, while still holding them accountable for performance. In the past, he has noted the current move is related to attempts to institute a voucher system in Texas.