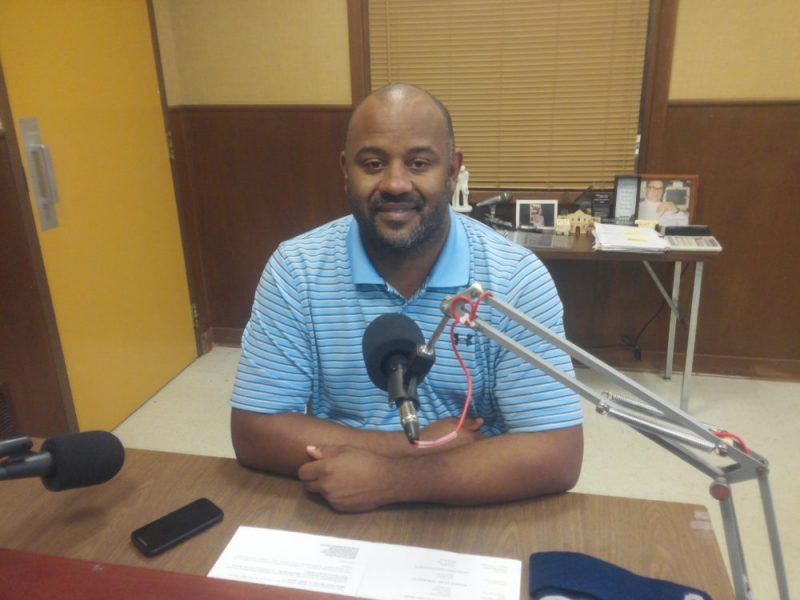 Cordell Jackson, Associate Minister at East Caney Baptist Church, subbed on Friday's interview for Dr. M. Lavelle Hendricks, organizer of the annual MLK Awards and celebration. Cordell is a member of the MLK Selection Committee for the 26th annual awards ceremony. Over 100 individuals will be recognized for personal achievement, spiritual excellence and community involvement. Keynote speaker will be Dr. Ray Keck, President of Texas A and M-Commerce.
Martin Luther King, Jr. said, "Our lives begin to end the day we become silent about things that matter."    It gives me great pleasure to inform you that you have been selected as a recipient for an award during the 2017 The Reverend Dr. Martin Luther King, Jr., Awards Celebration. (Monday, January 16, 2017) Morning Chapel Missionary Baptist Church, 208 Fuller St., Sulphur Springs, TX,  7:00 PM.  This award is given to those who demonstrate Dr. King's legacy of raising public consciousness to social justices, securing progress on civil rights, and loving and serving humanity.  This award commemorates your voice on social issues, outstanding achievements, personal standard of spiritual excellence, and community involvement.  Like Dr. King, you seek justice and total equality for everyone.
Spiritual                                                          Fergus Jacobs
Freedom Award                                               Bo Jackson
Spirit of Loyalty                                              Debra Berry
Spirit of Dependability                                  Terry Wright and Tommy Long
Social Change                                                 Demetria Robinson
Mother of the Year                                         Joann  Kelly-Hunter
Father of the Year                                           Clyde DeBase
Legacy of King                                               Lewis C. Hawkins
Spirit of Service                                             Yvonne Thornton
Spirit of Fellowship                                       Representative David Flynn
King's Kids                                           Tammy Wright, Tiffany Spigner and Linda Johnson
Choice of Excellence: Clarine Moore  
Youth of the Year                                           Destiny Godbolt
Family of the Year                                         Kerry Roy
Music                                                              Andrea Franklin
Church of the Year                                         Olive Branch
Political Award:  Wade Bartley
Encouragement                                               Doris DeBase
Evangelism Award                                         Marcie Porter
Faithfulness: Jason Cunningham
MLK Media                                                    Dollie  Kelly
Commitment Award                                       Mynder L. Nash
Employer of The Year                                    Rodney Reese
Employees of the Year:                                  Debbie Jenkins, Jennifer Scroggins, Barbara Brown
Law Enforcement                                           John L. Robinson, Tarvaris Abron, Jay Sanders,
Lewis Tatum
Spirit of Dedication                                            Dewayne Harris
Pastor of the Year                                           De'Lante Jackson
achievement award: Louise Lee
Fraternity of the Year                                     Kappa Alpha Psi Fraternity, Inc.
Sorority of the Year                                       Delta Sigma Theta Sorority, Inc.
MLK Man of the Year                                    Broderick Godbolt               
MLK Women of the Year                              Gyeula Watson, Mary U.  Ross,      and Willie Mae Harris
MLK STUDENTS OF THE YEAR   (SSISD)
D.J. Godbolt, Daieyshia Pruit, Kiyonna  Redmond, D'Idrec Dugan, Shertta Hill, Imani Taylor,
Lawrence Worth, Vontese Johnson, Zakya Ivery, Allen Hall, Jr., Danielle Petty,  SaDavia Porter
MLK STUDENTS OF THE YEAR (Texas A&M-Commerce)
Damian Allen, Brandon Bussey, Caleb Farris, Bruce McCoy, Nathan Philips, Robyn Carr,
Jasmine J. Minor and Monique Burkley
MLK TEACHERS OF THE YEAR                                                                                                    
Maci Newsome, Lisa Wilborn, Demetra Robinson, Mynder L. Kelly, Regina D. Vaughn, Cameron Warren, Greg Owen, Jeff Chapman, And Tony Henry
MLK HALL OF FAME
J.D. Franklin, Tommy Clayton, Billy Edwards, Gloria Franklin, Glenda  Brown, Chuck King
Dewayne McMeans and Callie J. Young
MLK Circle of Success
Nicole Johnson, Keiston Alexander,  Tyrone Ivery, Meioshi Nash, Ashanta Alexander, Jarred Jackson, Clevon Alexander, Tammy Alexander, Elvria Dial, Marlon Alexander, LaTosha Ivery, Vanessa Abron, Betty Thompson,
This event is free and open to the public.   We encourage you to bring your family, friends, and guests to this event.  Dr. Ray Keck, III – President and CEO of Texas A&M University – Commerce, will be the master of ceremony.