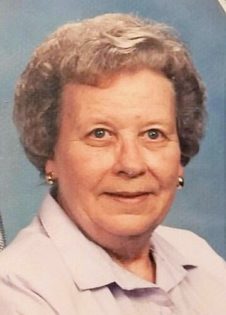 Jere Wyvonne Giles passed away peacefully at age 90, January 26, 2017 in Sulphur Springs.  She was born January 11, 1927, the daughter of Lillian Mae and Granville Austin Nichols.  Services will be held at 2:00 p.m., Saturday, January 28, 2017 at West Oaks Funeral Home Chapel.  The family will receive friends from 6:00 to 8:00 p.m., Friday, January 27, 2017 at the funeral home.
Wyvonne was a member of Martin Springs Baptist Church.  She married Fred Giles on July 6, 1946.  He preceded her in death 2003.  During their 56 years of marriage, she was a homemaker and very involved in her children and grandchildren's activities and sporting events.  She will be dearly missed by her family and friends.
In addition to her husband, she was preceded in death by her parents, sons, Mickey Ray Giles, Rickey Thomas Giles and Jerry Fred Giles, sister, Edna Earlene Nichols and brother Ray Nichols.
Survivors include sons:  Terry Michael Giles and wife Rose, Stanley Keith Giles and wife Connie, daughter-in-law's: Alisha Dawn Giles and Vanessa Joye Moorehead, grandchildren, Tony Giles and wife Doni Rae, Jordan Drue Giles and wife Madison, Jon Michael Giles, Cody Keith Giles, Emily Michelle Giles, Dion G. Ross and husband Charlie, Mitzi Anne Giles, Tracy Austin Giles and wife Rachel, Wendy Lea Giles and fiancé Tommy.  She is also survived by ten great-grandchildren.
Pallbearers will be Tony Giles, Jordan Giles, Jon Giles, Cody Giles, Tracy Giles, Jake McGary and Donny McGary. Honorary pallbearers will be Doni Rae Giles, Mitzi Giles, Wendy Giles, Emily Giles, Dion Ross and Rachel Giles.
Arrangements are under the direction of West Oaks Funeral Home.