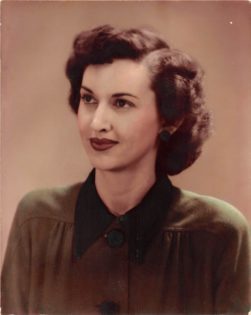 Funeral services for Doris S. Herman, 90, of the Nelta community will be held at 3 p.m.  Wednesday, January 18, in West Oaks Funeral Home Chapel with the Reverend Paul Bailey and the Reverend John Ginn officiating. Burial will follow at Old Tarrant Cemetery with Garrett Glass, Mike Baker, Fred Fielden, Benny Deaton, Erick Coffman, and Mark Lacek serving as pallbearers.  Honorary pallbearers will be Bruce Fielden, Albert Clark, Gary Stevens, and Dr. Charles Jones. Visitation will be from 6 to 8 p.m. Tuesday at the funeral home.   Mrs. Herman died Monday at her residence.
She was born in the Pine Branch community of Red River County on December 14, 1926, to Lee Allison and Maudie Jane Northcutt Smith. She married Roy Herman on September 22, 1956, in Allen, Tex., with Roy's first cousin, the Reverend Harold Weir, officiating. Her husband preceded her in death on December 22, 1990. After graduation from Bogata High School, Doris worked as a telephone operator before being hired as a stenographer by the Texas State Department of Public Welfare.  She was then promoted to area secretary, a position she held until shortly before the birth of her first child. She subsequently devoted her time and attention to her family.  She was a devoted and supportive wife to her husband in his job as superintendent of the Sulphur Bluff ISD.  She also supported the school and her children by serving as a room mother and working in the PTA. A talented seamstress, she made many clothes for herself and her children, even creating her own patterns and altering commercial patterns.  She was also a wonderful cook who served her family three home-cooked meals a day, usually concluding with one of her delicious pies. Mrs. Herman joined First Baptist Church of Sulphur Springs in 1948.  Following her marriage, she attended Nelta United Methodist Church and later Birthright United Methodist Church.  She was a member of the Sulphur Bluff Chapter of the Order of the Eastern Star.
Mrs. Herman is survived by a daughter, Gail Herman; a son, Roy Herman, Jr., and wife Gina Lynn; and a daughter, Gina Wilder and husband Bill, all of Nelta.  She is also survived by two grandchildren, Emily Glass and husband Garrett of Sulphur Springs, and Everett Wilder and wife Jenny of Bangs, and two great-grandchildren, Katherine and Grant Glass. She is also survived by a sister, Wilma Ledford of Bogata and Sunnyvale, two nieces, and three nephews.
She was also preceded in death by her parents; two sisters, Bonita Kennedy Rothera and Mary Catherine Stafford; three nephews and a niece.
If desired, memorials may be made to the Arthritis Foundation.
Arrangements are under the direction of West Oaks Funeral Home.