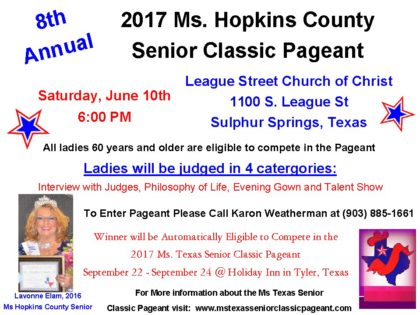 The 2017 Ms Hopkins County Senior Classic Pageant will have a new time and place this year. The event will be conducted at League Street Church of Christ, June 10th at 6 p.m. All ladies 60 years and older are eligible to compete in the Pageant. Each contestant will be judged in four categories including interview with the judges, philosophy of life, evening gown, and talent.
The winner will be eligible to compete in the 2017 Ms Texas Senior Classic Pageant in September in Tyler. To enter the pageant, call Karon Weatherman at 903-885-1661.
Lavonne Elam is the 2016 Ms Hopkins County Senior.