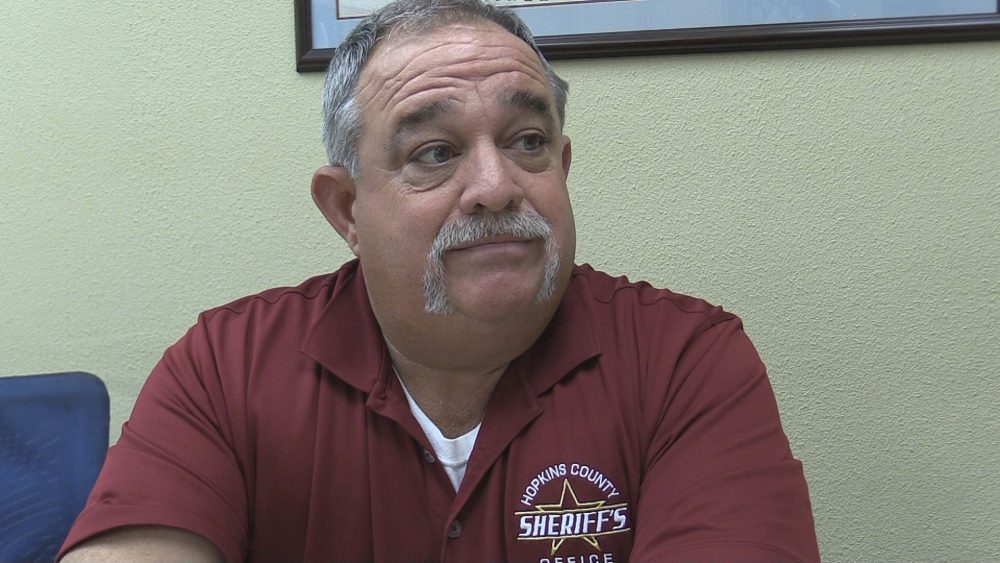 Hopkins County Sheriff's Department clearance rate remained high as investigators and deputies in the department went about their day to day work in Hopkins County during 2016. Sheriff Lewis Tatum said the department is well prepared to do the work. Thanks to changes that brought salaries up, very few leave the department and the experience is proving valuable to the county.
He stated the deputies and investigators continue to follow up all cases and as necessary are working with other agencies to recover stolen items.  "Anytime deputies go out on a call, they look for suspects and recover property, do interviews. They don't just wait on the investigators," stated Tatum. He said the deputies work the case until investigators arrive and continue to work with the investigators as needed. According to Tatum, their tenacity serves to train them in the practicum needed to work as investigators as they advance. He stated those that do go to other agencies amaze those agencies in the skills and abilities shown as they work cases.
Regarding his investigators, Tatum said they have an amazing work ethic. What they bring to the table with computer labs, forensics, and their commitment to continue to go out to solve cases and recover items enables the success of the department.  Tatum said that although not all cases are solved quickly, they do try to clear all the cases as quickly as possible. He stated there are those cases that can be more difficult.
During the year 156 offenses were reported with four (4) unfounded. Of the 152 actual offenses 151 were cleared by the department.
During the year, five rapes by force were reported and four arrests were made. All but one assault was cleared. Assaults included aggravated assault by firearm, knife, and dangerous weapon, aggravated injury using hands, fists, and feet. Only one simple assault has not resulted in an arrest. Burglaries and motor vehicle theft also resulted in arrests.
No criminal homicide or robbery using a weapon was reported in the county.
Over $140,000 in property damage resulted from arsons reported in the county. Six structure fires and one motor vehicle fire were reported to the county. Only one of the five structure fires resulted in an arrest thus far. The motor vehicle fire resulted in an arrest.
In 2016, Sulphur Springs Police Department saw no homicides reported during 2016. There were five sexual assaults, six robberies, 17 aggravated assaults, 19 burglary of a habitation, 17 burglary of a building, 128 theft over $200 and 16 motor vehicle thefts during the year.