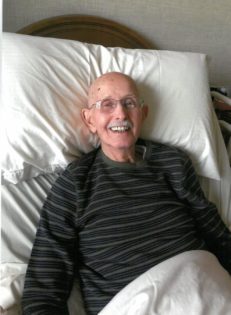 August Henry Metz, age 92, of Point, passed away Saturday, Jan. 7, 2017, at his home, with his loving family around him. He was born in Oak Harbor, Ohio, Nov. 1, 1924, to Mr. and Mrs. August H. Metz. He married LaQuita Preskitt, in Garland, on Dec. 10, 1974. Gus worked as a salesman for a plastics company for many years. Also, he worked for South Rains SUD, as general manager for a number of years. Gus was a member of Emory Baptist Church.He served his country in the U.S. Army. Gus was a member of Mars Hill Masonic Lodge, Shriners, and the American Legion 156.
Left to remember and cherish his memory are:
Wife, LaQuita Metz of Point
Sons:  Tom O. Metz of Jacksonville, FL: and
Joseph Borowski of Atlanta, GA;
Daughters:  Mary Goodnight and,
Melissa Cathcart both of Point
Grandchildren:  Heather, Katherine, Rachel, Caralyn, Jason, Apryl, Jack, August, Connor and Liam
Great-grandchildren:  Kiela, Caleb, Logan, Brandon, Christy, Hannah, and Robby
His faithful little companions:  Buddy and Chloe
Numerous other loving family and friends.
Preceded in death by:  Parents, 2 daughters, Susan Metz and Ann Metz; 1 son, John Borowski; 1 brother, and 3 sisters.
Cremation arrangements will be under the direction of Wilson-Orwosky Funeral Home.