By Jan Vaughn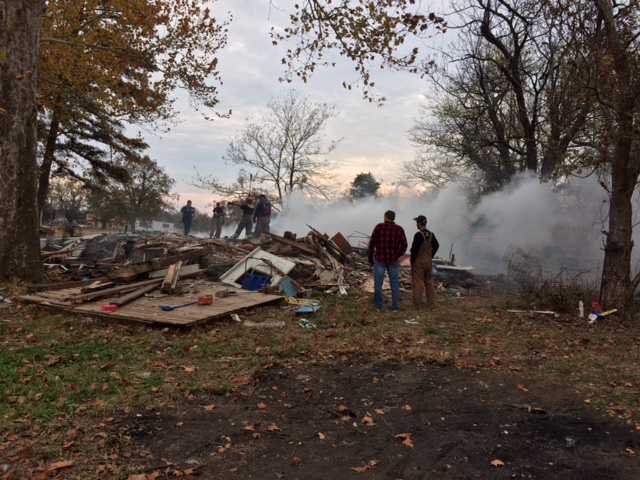 Kim Beck reported that Tira, North Hopkins, and Brinker volunteer firefighters, and the Hopkins County Fire Chief responded to a fire on County Road 4612, just behind her home, on Sunday afternoon. The house was not occupied and was in a state of disrepair.
William and Joyce Dodd hosted a Thanksgiving celebration at their home. Those attending were Michael McNiel and friend, Jayna Shull, Rob Dodd, Tonja Jones, Alyssa, Gavin, and Ethan Shelton, Brad, Tanya, Trenton, and Matthew Dodd, Tiffany, Emery, Eli, and Edon McPherson, Von and Janie Prahl. Jonathon & Ruth Shelton stopped by for a visit. Joyce shares, "We had a very blessed day."
Regina Payton, from Victoria, visited with Floyd and Martha Payton over the Thanksgiving holidays. Martha says, "We were thankful for our time together and completing some unfinished chores." She adds, "Thanks again for all the prayers, kind words, and love shared during our loss."
Jimmy and Janie Lewis traveled to Atlanta, Georgia to celebrate Thanksgiving with Jeremy Wright. They also visited Jimmy's sister on the way.
We celebrated Thanksgiving with our family last Friday. Our guests included Delayne Vaughn, Tiffany Vaughn, Jaidyn and Kenden Joslin, and friend Abby, and Morgan Joslin and friend Alexis, Landon, Laiken, Rylan, Brailon, and Slaiden Joslin, Elizabeth Steinsiek, Tracy and Lani Horn, and Linda Ellen and Grace Vaughn. After the meal and visiting, several of us went to see the progress on Liz's cabin. Michael Horn, a pilot for Southwest Airlines, was not able to be off work on Friday. Jordyn and Madison Horn were visiting their grandmother, in Frisco. Linda Ellen Vaughn and Tiffany and the kids joined us for leftovers on Sunday.
Landon and Rylan Joslin went hunting on Thanksgiving morning and got a deer. Michael Horn took Kenden Joslin hunting on Sunday afternoon.
I always need and appreciate input from my friends to help keep me informed of news in our community. If you have any news pertaining to Tira residents, past or present, please contact me, Jan Vaughn, at 903-945-2190 or 903-438-6688 or [email protected].