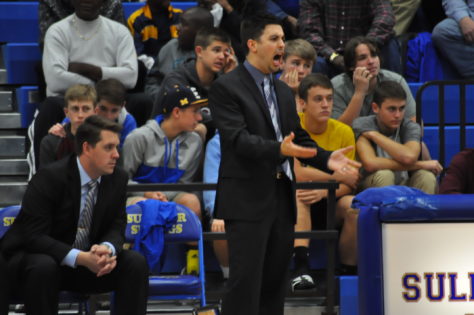 Clark Cipoletta on Wildcats
Wildcats Basketball Coach Clark Cipoletta, on KSST Radio and Channel 18 TV's Saturday Morning Coaches Show, said the win over Royse City Friday night in the Middle School Gym didn't come easy. The Wildcats won 62-45.
Coach Cipoletta said there might have been some hangover from the tough Paris loss earlier in the week. Coaches are also big on routines and Coach Cipoletta said some of the players did not have to attend classes Friday. Several Wildcats' dependable outside shooters had rare off shooting nights. Coach Cipoletta said he was proud of his team for finding a way to win.
Ke'Ontae Dunn, who scored a career high 26 points including 5 three point baskets, played lights out and carried the team, according to Coach Cipoletta. Post Victor Iwuakor was also a major force inside scoring 15 points with numerous blocked shots. The Wildcats also played solid defense allowing Royse City single digit scoring in the first and second quarter. Coach Cipoletta also added his team was successful in running Bulldogs off the three point line. Royse City, a team that loves the three, had to settle for only two made three pointers on the night.
The Wildcats now open district play Tuesday at 12:30 p.m. in Pine Tree. Coach Cipoletta said the Pirates are a scrappy team, just like Royse City, except they are bigger and play harder. He added perhaps they don't shoot quite as well as the Bulldogs. Coach Cipoletta is hoping the Wildcats will match the intensity of the Pirates in this early game on the road with school out.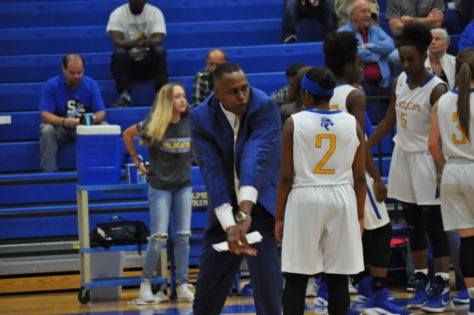 Chapman on Lady Cats
The Lady Cats' basketball team continues to play shut down defense and Friday the Lady Cats' offense joined the party in a big way. The Lady Cats went to 2-0 in district play and 13-3 for the season after a 71-28 win over Hallsville in Wildcats Gym Friday.
What pleased Lady Cats Basketball Coach Jeff Chapman the most though was the unselfish way the Lady Cats shared the ball with each other. Coach Chapman was on KSST Radio and Channel 18 TV's Saturday Morning Coaches Show. He said his goal is for his team to score more than 60 points while allowing less than 30.
Next the Lady Cats will play Pine Tree in Wildcats Gym Monday at 2:30 p.m. Coach Chapman called Pine Tree much improved over last year. He said a player, who he called the glue of the Lady Pirates team, returned to the team this season after living elsewhere the past two years. Marissa Gary scored 22 points in the Lady Pirates' win at Texas High Friday. Pine Tree is 10-6 this season and they are 2-0 in district play. They also defeated Marshall last week. Coach Chapman said Pine Tree is a good team capable of winning if the Lady Cats don't come ready to play.