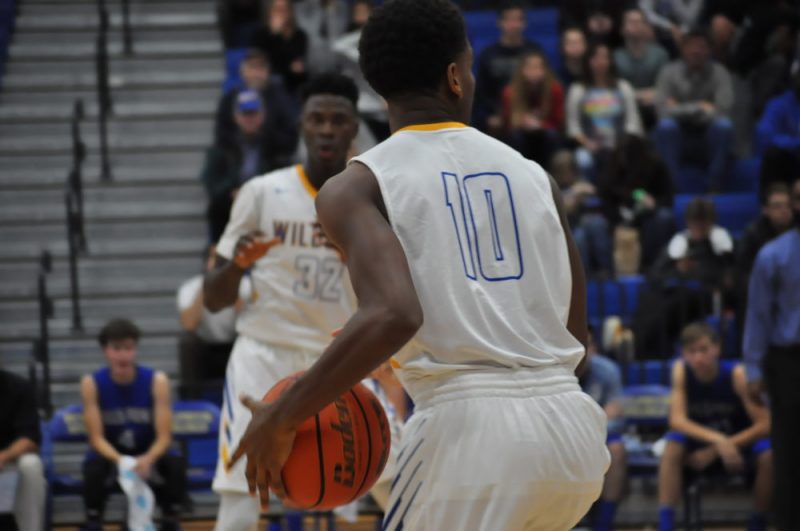 The Wildcats' basketball team remained unbeaten for the season with a dominating 77-35 win over Denison at Wildcats Gym Tuesday night. The Wildcats utilized a productive offense and a stifling defense to run their season record to 4-0.
Wildcats Coach Clark Cipoletta said he thought Denison was the best team the Wildcats had faced this year and he added the Wildcats just played really well. Six-foot-seven sophomore post Victor Iwuakor led the Wildcats with 25 points. Junior guard Bryson Lynn drained five three-point shots and added 17 points. Sophomore post Xavier Cork chipped in 8 points. Junior guard Dedric Godbolt and freshman guard Michael Jefferson had 6 points each. The Wildcats held the Yellow Jackets to less than 9 points per quarter allowing only 3 first quarter points and 7 fourth quarter points.
Now things get interesting for the Wildcats in a Royse City tournament running Thursday through Saturday. Their three team tournament pool includes a couple of sharks. They play top ten rated Class 4A team Anna Thursday at 8:30 a.m. and then play Class 6A power Lufkin Friday at 8:30 a.m.The pool game results will determine the Wildcats' future tournament schedule.
Also Tuesday night, the Wildvats JV closed with a 15-2 rush to defeat Denison, 51-39. The Wildcats Freshmen Team also defeated the Yellow Jackets 59-48. The JV, coached by Johnny McSheffery is 6-0. The Freshmen Wildcats, coached by Philip Manning, are 5-1.
The Freshmen will also play in the Royse City tournament Thursday through Saturday while the JV will play in a Miller Grove tournament Thursday through Saturday.