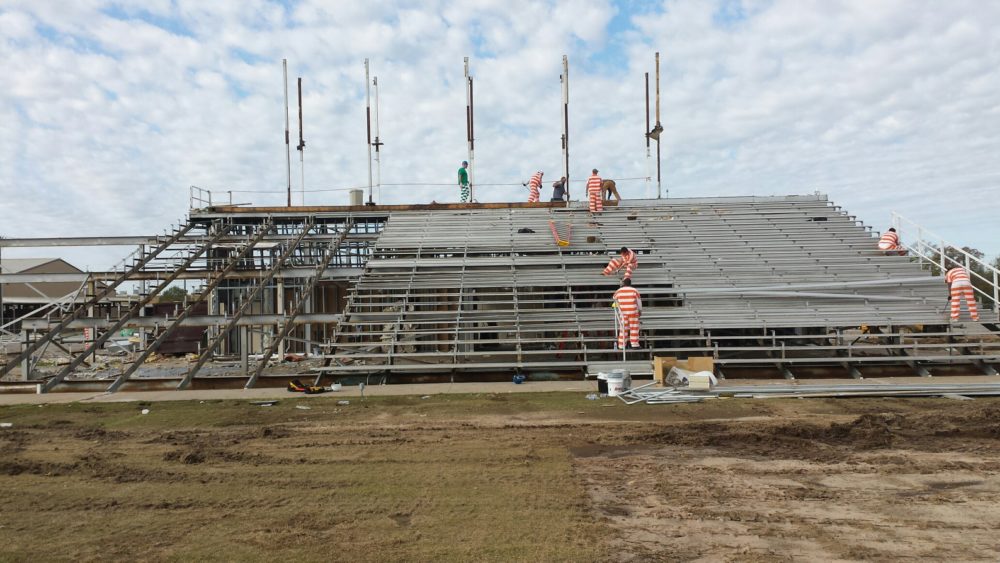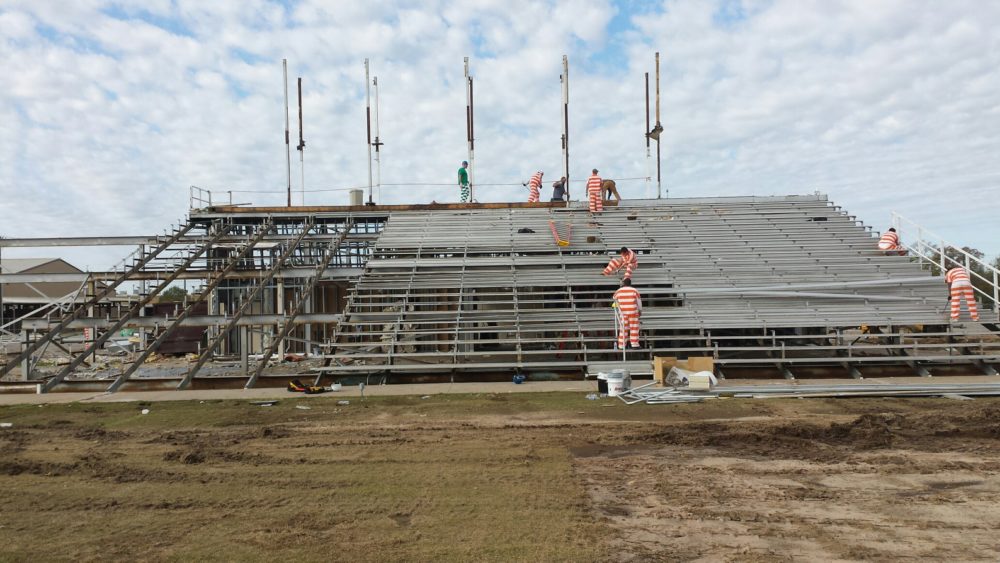 Demolition continues even in the rain at Prim Stadium. As rain fell early Monday morning, November 28th, inmates were unloading from the County Sheriff's bus and beginning another week of work taking down the press-box and concession stands, taking up the grass playing field, and other work in preparation for a January, 2017 rebuilding start.
Prim improvements will include replacing sod with artificial turf, redoing all the home side and installing new LED lights. Capacity should be 4,000 on the home side.
The stands will include room for the band and drill team. There will be no end zone seating. Concession stands, restrooms, ticket booth and a one-story press box will be rebuilt. Nothing will be done at this time to dressing rooms or to the visitors' side which should be able to seat 2,000 to 2,200.
To accommodate the projects, soccer teams are moving this season's games to the track field. Coach Owens said currently, work on the projects was on schedule or even perhaps ahead of schedule.
About 30 inmates began demolition work at Gerald Prim Stadium Monday, November 7, 2016 at 8 a.m. as preparations begin for a total remodel of the stadium. Their work and the use of various materials from the demolition will save school and county tax payers well over $100,000 according to Dan Froneburger with SSISD and Sheriff-elect Lewis Tatum.
Inmates removed chain-linked fence, posts and gates and the air conditioning units. The metal structures at the stadium are currently underway. All those items are being used to construct chicken coops and an enclosed outdoor area for the chickens at the county farm, according to Tatum. Tatum stated that Pilgrims will provide laying hens for the county farm that inmates are currently constructing near the gardens that have been planted. They are also cutting the sod at the field. The grass is being used in renovation work at the Lady Cat Softball Field and some will be sold to individuals with the money being reinvested in the stadium upgrade.
Como-Pickton CISD has purchased a section of stadium seats. Froneburger said the county labor has led to the only expenditure of hard hats and safety glasses for the inmates. Light poles at Prim are being moved to Lady Cat Softball as well.
Coach Owens said safety concerns with the press box and home stands were factors in doing the work as well as the need to upgrade worn out facilities. The work will also eliminate the problem of not being able to schedule baseball and soccer games at the same time. Dirt work for the new baseball field is underway. Coach Owens said grass might be planted soon.